The Ultimate Christmas Playlist
By now you've probably become familiar, potentially even overly familiar with festive tunes. There's no escaping them – they're either blaring through your radio in the car on your way to work or serenading you at the supermarket during your grocery shop.
Whatever your cup of tea, whether it's old school favourites from the likes of Wham! to the more contemporary hits from artists such as Michael Buble, we've been busy finding all the Christmas songs that actually deserve a space on your playlist this year and have also unearthed which one reigns supreme when it comes to ultimate popularity.
So, how did we do it? We used Google search data, total Spotify streams, and finally, Tik Tok and Instagram plays. Since we live in a social media savvy age, we thought it would be a good idea to include how often each of these yuletide favourites are used in videos within these popular social media platforms. The results, particularly the Tik Tok ones, may genuinely surprise you.
Ready to have the best Christmas playlist yet? Read on to find out about what our analysis found.
The Most Popular Christmas Songs Overall
In terms of overall popularity, the Queen of Christmas, none other than Mariah Carey took the top spot for the most popular Christmas song. Released in 1994, the R&B sensation has been taking the world by storm every year with her reportedly making £45 million since it's release. It was also the leading song by Tik Tok AND Instagram plays, too, with over eight million videos that have used the tune on the former and 273,000 on the latter. Fair play, Mariah.
Not far behind was Last Christmas by Wham! which was released just a decade prior to the winner, clocking in over 700 million streams on Spotify. 
Bringing a millennial twist into the mix is Ariana Grande's Santa Tell Me (2014), with just over half a billion plays on Spotify.
A man loved across most generations is none other than Michael Buble, who ranked fourth in overall popularity according to our data with It's Beginning to Look a Lot Like Christmas (2011). This song was also the second most played song on Instagram among the list.
Finally, this nostalgic classic definitely deserves a space in our top five – Brenda Lee's Rockin' Around the Christmas Tree, which was released in 1958, has been streamed over 400,000,000 times on Spotify and possesses 81,100 plays on Tik Tok, showing that even Generation Z are fans of this iconic hit.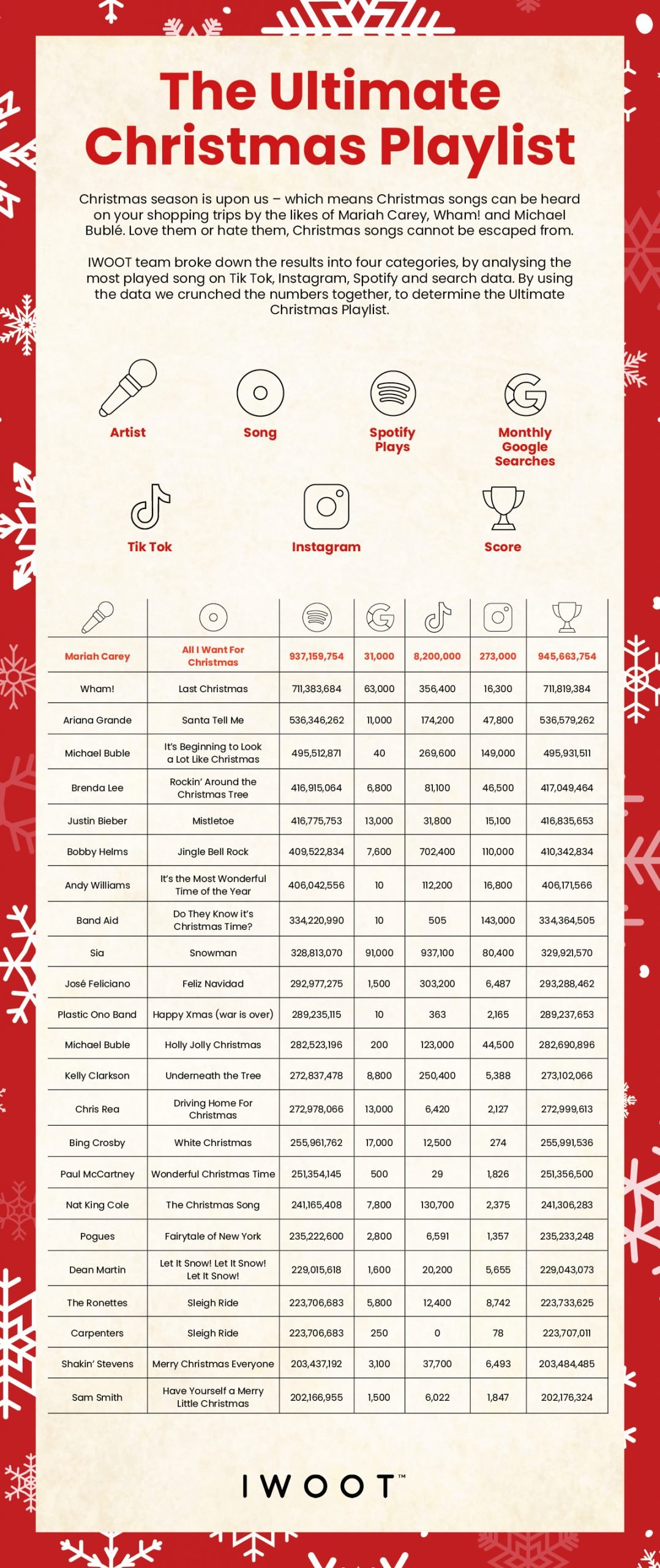 Most Searched Christmas Songs
So, which song does everyone run to search for when it comes to the festive season? Whether it's searching for lyrics to get your karaoke game strong, or looking for a Youtube video to stick on in the background whilst you're opening presents, here are the top Xmas tunes by monthly searches:
Snowman (2017) by Sia –

91,000

Last Christmas (1984) by Wham! –

63,000

All I Want For Christmas is You (1994) by Mariah Carey –

31,000

White Christmas (1979) by Bing Crosby –

17,000

Mistletoe (2011) by Justin Bieber –

13,000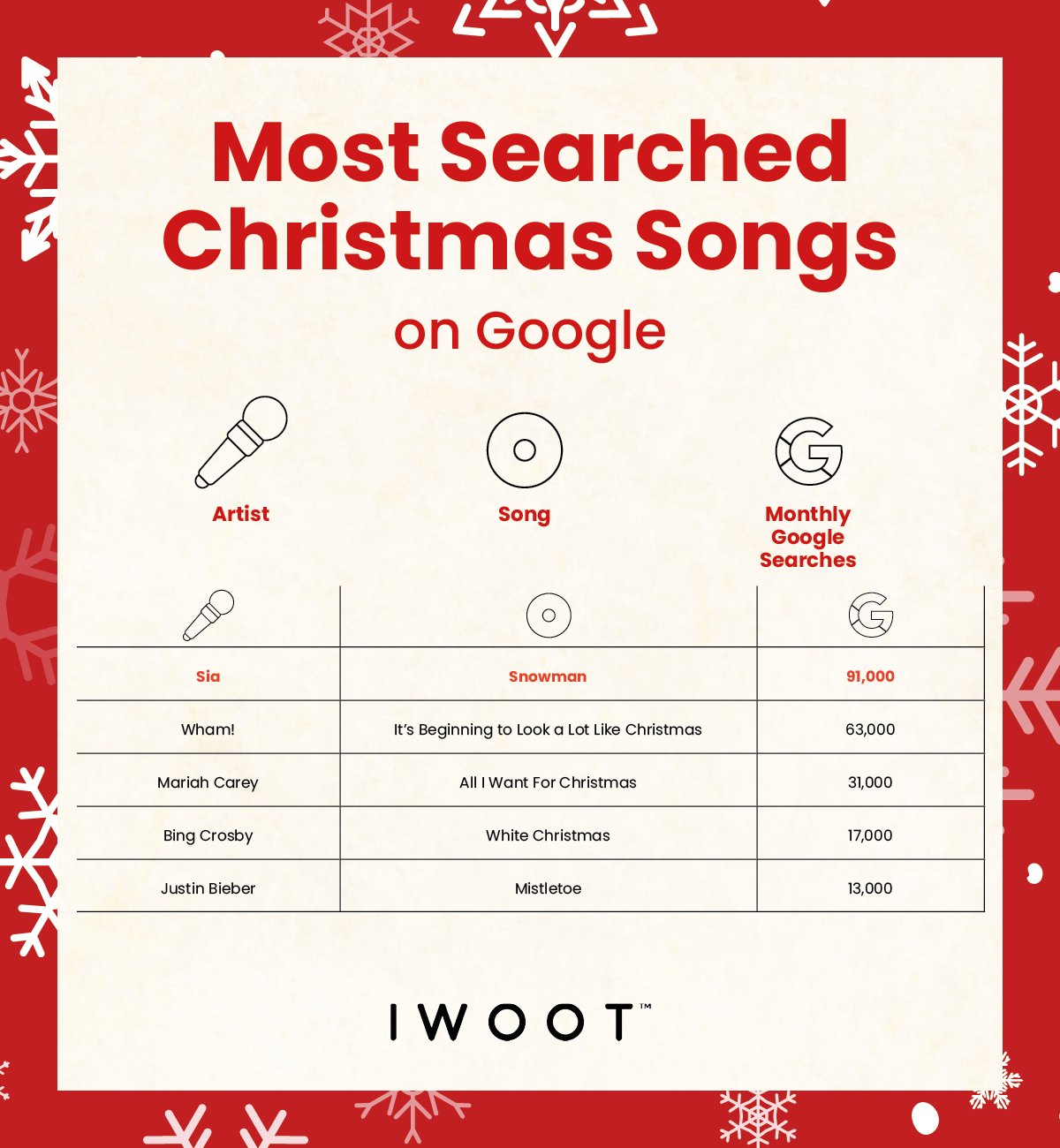 Most Played Christmas Songs (Tik Tok)
At some point we've all either been sent a hilarious clip from Tik Tok or have spent hours on end scrolling through the app. With this in mind, what have users been opting for to get their festive fix? Here are the top Tik Tok songs by number of plays:
All I Want For Christmas Is You (1994) by Mariah Carey –

8,200,000

Snowman (2017) by Sia –

937,100

Jingle Bell Rock (1970) by Bobby Helms –

702,400

Last Christmas (1984) by Wham! –

356,400

Feliz Navidad (1970) by José Feliciano –

303,200
Interestingly, the majority of songs that are in the top 5 are before the time of millennials, meaning that even the younger generations are fans of the throwbacks. Who can blame them, right?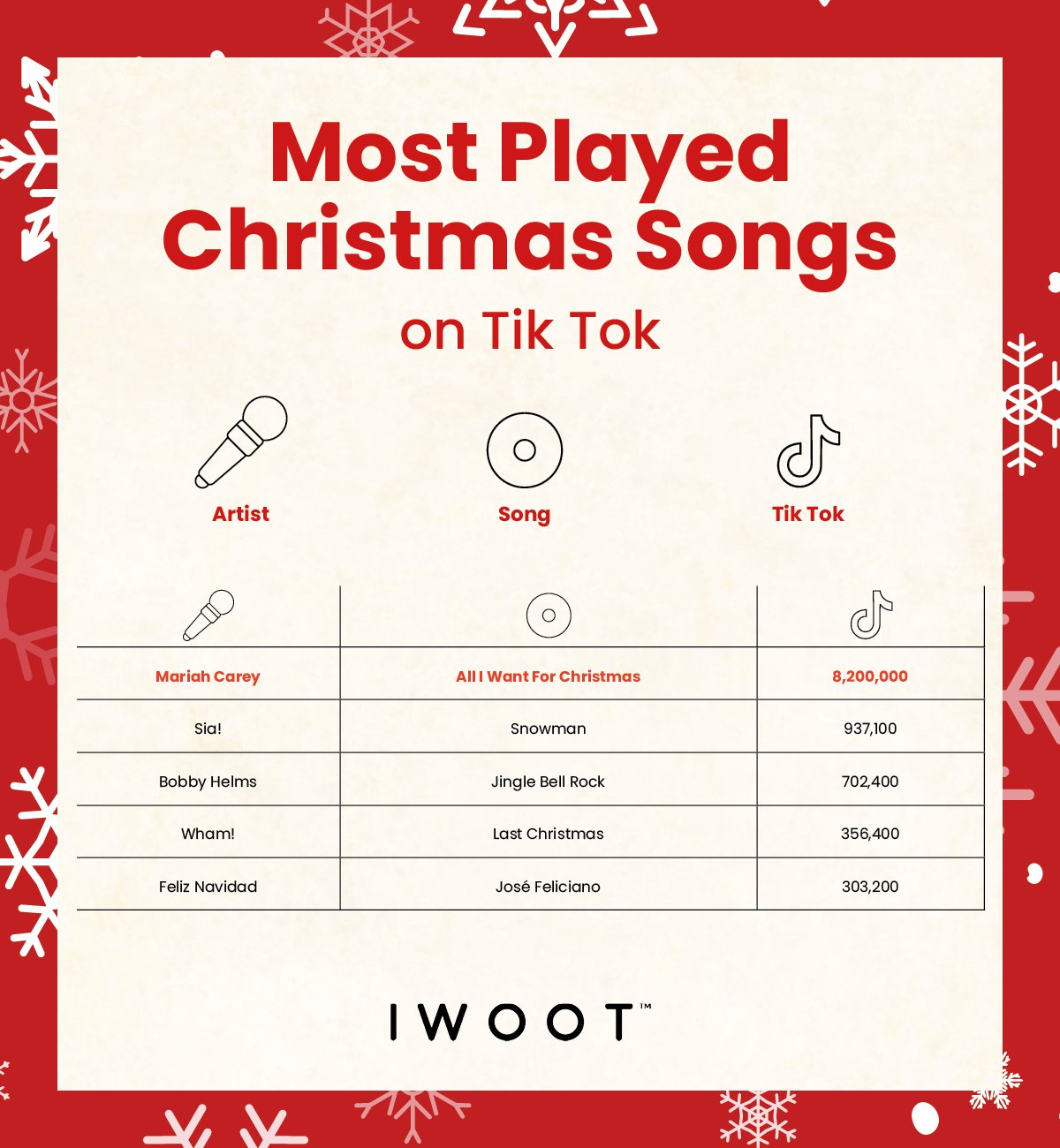 Most Played Christmas Songs (Instagram)
Here are the Insta-famous festive tracks that have taken the app by storm, sorted by the most played:
All I Want For Christmas is You (1994) by Mariah Carey –

273,000

It's Beginning to Look a Lot Like Christmas (2011) by Michael Buble –

149,000

Do They Know it's Christmas Time? (1984) by Band Aid –

143,000

Jingle Bell Rock (1970) by Bobby Helms –

110,000

Snowman (2017) by Sia –

80,400
Love them or hate them, Christmas songs cannot be escaped from. With both old school tunes and more millennial-friendly hits being represented, you can't help but not get sucked into the festive spirit. We hope our findings have shocked you or made you laugh – better yet, we hope you'll be able to build your own ultimate playlist in time for the holidays. And if you're yet to sort out your presents, whether it's stocking fillers or bigger treats, shop our gift ideas for Christmas now.
Methodology
To find an initial list of songs, we looked at the top Christmas songs playlists on Spotify. Using this list we then researched each song's popularity based on total Spotify streams, Tik Tok videos that have used each song, Instagram videos that have used each song, and finally, the number of times it has been searched per month on Google. To get the final scores, we added all the figures together, leaving us with the overall rankings.