Shopping for that perfect sweater during the festive period can be stressful, so we've put together 10 of the best Christmas jumpers to make things that little bit easier.
Over the years Christmas sweaters have evolved from itchy knitted efforts from your Gran, becoming a must-have for your winter wardrobe. Their wild, quirky designs can often symbolise the Xmas period and they go hand-in-hand with terrible (but funny) Christmas jokes.
Xmas jumpers come in a range of styles these days and they're not just featuring reindeer or snowmen. You can get everything from Donald Trump to Star Wars Christmas jumpers these days and yes, they're as funny & ridiculous as you can imagine.
With the big day edging ever closer, now is the time to shop for that sweater and IWOOT UK's selection of festive fashion includes some of the best Christmas jumpers around. Featuring designs from huge franchises along with our exclusive designed by IWOOT range.
Best Christmas Jumpers 2019:
1.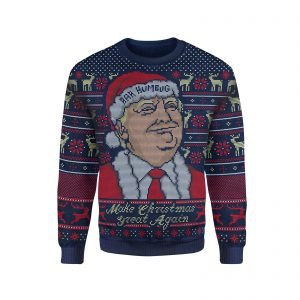 Christmas jumpers are all about being quirky, unique, one of a kind & the designers here at IWOOT have come up with something pretty special.
Trade in your Christmas jumper for a Christmas Trumper & make Christmas great again in 2019 with our world exclusive Donald Trump festive sweater that'll certainly make you the talk (and envy) of your friends. This is the festive jumper you never knew existed but now it's an absolute must have.
Fight back against fake news, go wild on Twitter and embrace the holidays with this red, white and blue garment, featuring the American president sporting festive attire alongside reindeer – what more could you possibly ask for?
Surely a contender for the best Xmas jumper of 2019.
2.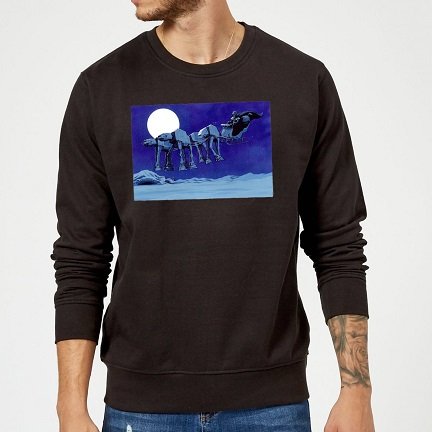 Ahead of the release of The Rise of Skywalker hitting the big screen just before Xmas, we have this fantastically designed Star Wars Christmas jumper that is a must for fans of the saga.
This captures the originality of Star Wars along with the festivities of the holidays, featuring Darth Vader orchestrating his slightly unorthodox sleigh which includes the iconic AT-AT's, as opposed to the reindeer – seems like they're not fans of Hoth.
A perfect piece of festive fashion for any fan of the franchise, our Star Wars Xmas jumpers are available to members of the First Order and the rebels fighting for the Resistance – we don't discriminate. Certainly one of the best Xmas sweaters around.
3.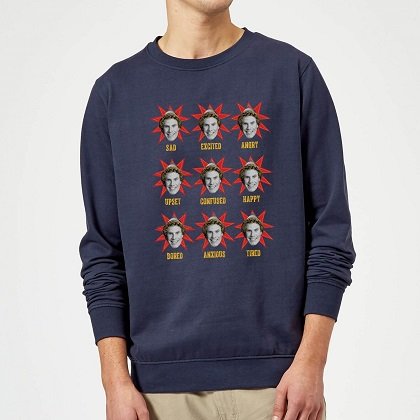 Christmas isn't Christmas without tucking into a festive blockbuster and they don't come much bigger than Elf. Buddy the Elf became a household name and a real icon of the holidays in 2003 when he left the North Pole for an adventure in New York – bringing comedy and festive cheer with him to unite the city.
Show your support for an absolute classic of a film and look the part this Xmas – I mean who wouldn't want to watch Elf wearing an Elf Christmas jumper right?
4.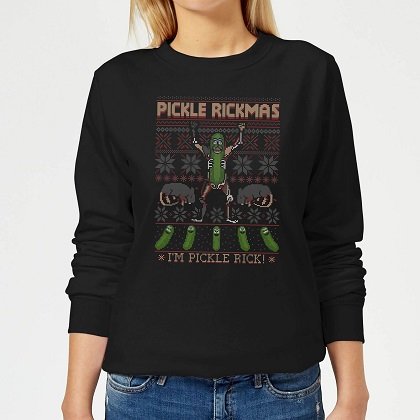 It's time to get schwifty this Christmas with everyone's favourite pickle. They may not be traditional at this time of the year, but we're sure that Pickle Rick won't be afraid to tell you otherwise.
This hilarious design features Pickle Rick fresh from defeating an army of rats in S3, E3. An episode that's one of the best around and in honour, we've got an officially licensed Pickle Rick Christmas jumper that redefines festive fashion!
This festive sweater is as quirky as they come and it's ideal for any fans of the Rick & Morty franchise, meaning you can now finally join him in shouting "I'M PICKLE RICK!"
5.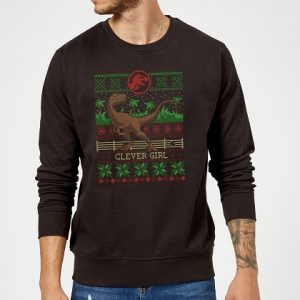 Do dinosaurs celebrate Christmas? Do T-Rex's struggle opening presents with little arms?  These are the things we need to know! There's plenty of questions to be asked but in the meantime, lets admire this great Jurassic Park Xmas sweater.
A cult series deserves something special at Xmas and this Jurassic Park Christmas jumper certainly delivers. Featuring one of the most iconic film quotes of all time and one of those pesky velociraptors, this Xmas jumper is for super fans of the franchise.
So regardless of whether dinosaurs celebrate the holidays or not, you can soak up the nostalgia with one of the best Christmas jumpers for fans of this 90's classic.
6.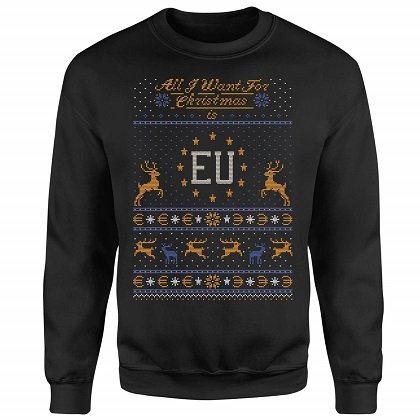 Did EU really think that there'd be no more political jumpers? EU thought wrong.
Brexit seems like it's never going to happen so in the meantime can show your support for the EU with this brilliant Xmas jumper.
We're not sure if Boris & co will appreciate you wearing this but hey ho, it's Christmas. So why not put politics, Christmas and a bit of cheesiness together and show your love for the EU over the holidays.
7.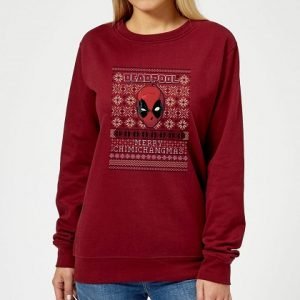 Fans of the Marvel Comic Universe have lots superheroes to choose from. The likes of Captain America, Spider-Man and Thor all come across as your stereotypical heroes which makes the erratic Deadpool all the more entertaining.
Played by the superb Ryan Gosling, Deadpool is about as unorthodox as they come and his bizarre, unpredictable demeanour is on display this Xmas in the form of this superb Deadpool Marvel Christmas jumper.
He's known for not taking life too much seriously and you can do the same by enjoying a Merry Chimichangmas with him! Marvel heroes make the best Christmas jumpers right?
8.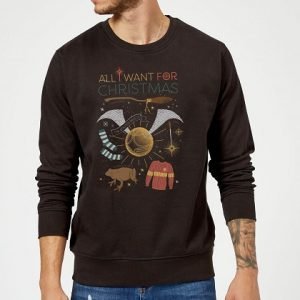 Christmas is one of the most magical times of the year and IWOOT have something that'll add that little extra stardust, in the form of everyone's favourite magician – Harry Potter.
This Xmas sweater is perfect for any fan of the franchise and who wouldn't want a golden snitch, chocolate frog or nimbus 2000 for Xmas right?
This Christmas jumper is available for men, women and kids in a range of sizes – bringing Hogwarts to your home over the holidays!
9.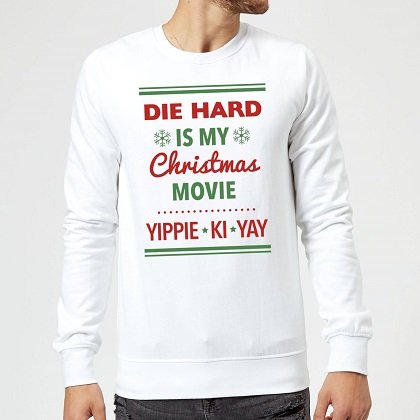 Is it a Christmas film? Isn't it a Christmas film? One thing we can all agree on is that Die Hard is a fantastic film!
This classic hit our screens back in 1988 when Bruce Willis almost singlehandedly defeated a team of henchmen led by the great Alan Rickman, with it almost instantly becoming a cult classic.
It may have been released in February of '88, but the festive setting in the film has made it recognised by many as a festive movie and we're in that camp too! Watching Die Hard is an Xmas tradition for many and you can take your love for the franchise to the next level with our Die Hard Christmas jumper!
Spread the word… Die Hard is a Christmas film. Yippie ki-yay!
10.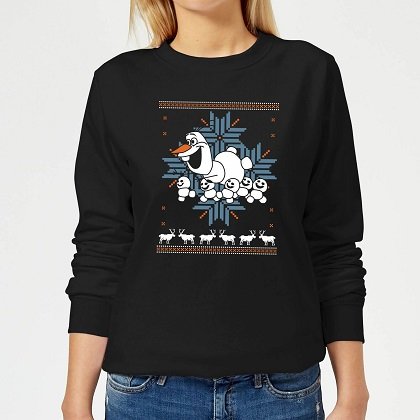 Let's be honest, Christmas just isn't Christmas without Disney. Their films are a fantastic way of bringing the families together and they're always on TV when searching through the channels on Christmas Day.
You can reel off blockbuster after blockbuster but one that really captured the hearts of many was Frozen – a film that's synonymous with the holidays.
It's a firm favourite both with kids and adults, with the lovable snowman Olaf becoming a real icon of the franchise. So what better way to get festive than a Christmas sweater featuring the man himself?
You can see more of 2019's best Christmas jumpers featuring more funny and unique designs that'll make the festive period that little bit more special.