Anyone for a glass of fizz? It's National Prosecco Day on Friday 13th August 2021, and we know how hard it is to resist that crisp, and ever so slightly tart, taste of this bubbly beverage.
Here at IWOOT, we're no strangers to the world of foodie-focused and boozy gifts, especially those of the prosecco persuasion. We thought we'd go further and do some digging into the most prosecco-obsessed locations, both in the UK and around the world.
Whether you yourself are a seasoned prosecco connoisseur or know somebody that just can't get enough of the stuff, check out what we found so you can plan a bubbly getaway, and get some gift inspiration along the way, too.
We've divided up our findings into UK regions and cities, then had a peek at worldwide results based on Google Trends.
Here's what we found.
The Most Prosecco-Obsessed Region in the UK
According to Google Trends data, these are the regions in order of how much they searched for the term 'prosecco' in the last 12 months:
Scotland
England
Northern Ireland
Wales
It seems that Scotland is all about this grape-based tipple, with the region claiming the top spot for having the highest amount of searches for prosecco.
Here's what they discovered.
Top 10 Most Prosecco-Obsessed Cities in the UK
With Scotland being the region where you'll most likely find prosecco lovers, which city will be crowned the prosecco capital of the UK in 2021? The results are in!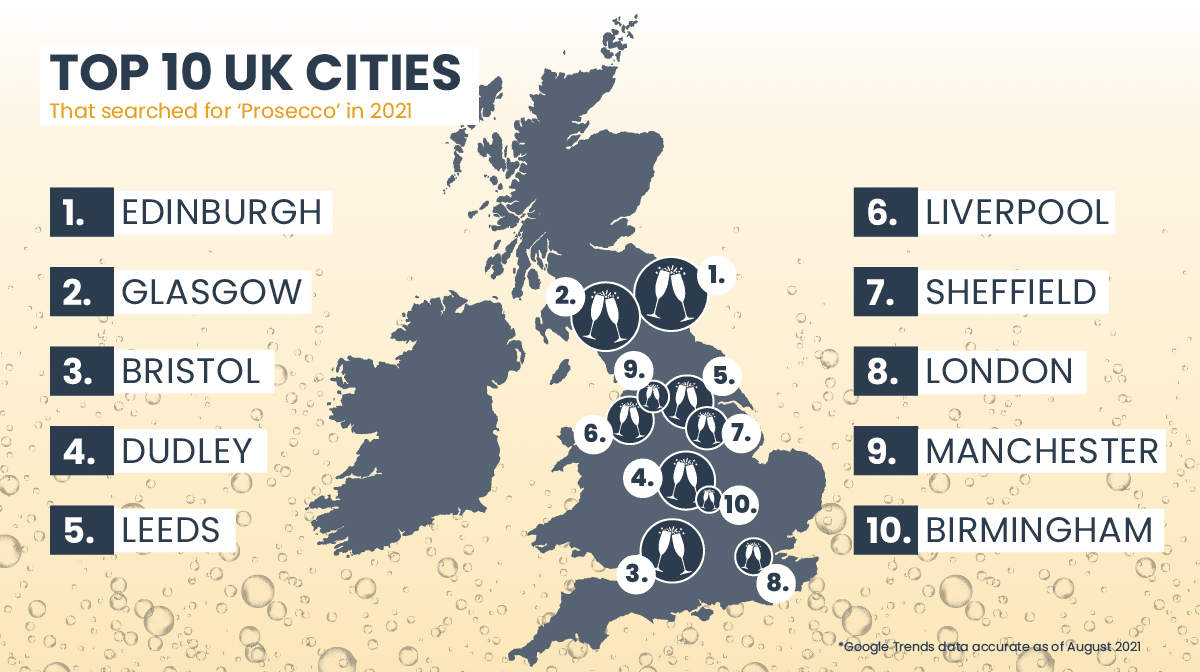 Edinburgh
Glasgow
Bristol
Dudley
Leeds
Liverpool
Sheffield
London
Manchester
Birmingham
Two Scottish cities dominated the first and second position for their love for prosecco, with Edinburgh being the 2021's prosecco capital. This is in line with Scotland claiming the top spot regionally. We have to wonder, what is the prosecco like up there?
So, it seems like if you want to be surrounded by the most fellow fans of fizz, then you'll want to get yourself to Scotland.
The Most Prosecco-Obsessed City: World's Prosecco Capital in 2021
With countries opening up for travel, now might be the time for you to plan a getaway. If you're as big a fan of prosecco as we are, then you'll want to know where it's at when it comes to its popularity around the world. Even if you aren't planning a trip, have a nosey at the data we unearthed below.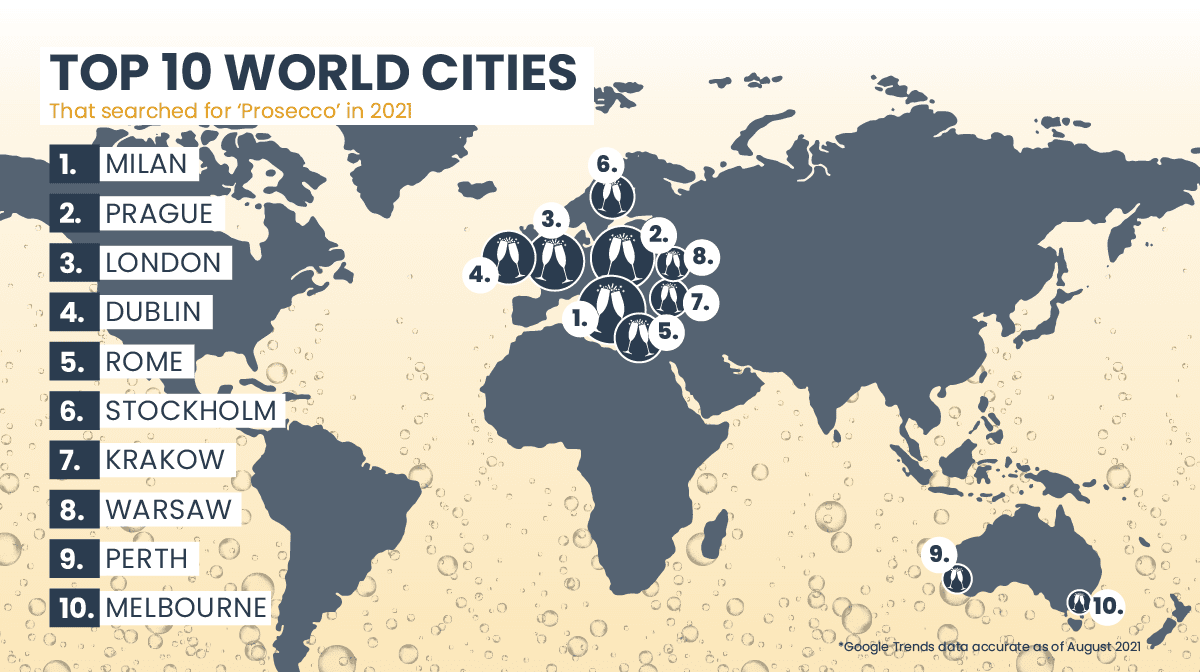 Milan
Prague
London
Dublin
Rome
Stockholm
Krakow
Warsaw
Perth
Melbourne
Two Italian cities featured in the top five prosecco-loving cities in the world, which seems fitting, considering that it originated within the north-east of the country in the region of Veneto and Friuli Venezia Giulia.
Europe seems to overall love a glass of the bubbly stuff with 70% of the cities listed representing the continent, whilst two Australian cities also managed to bag a spot in the top ten, suggesting that it's a hit down under, too.
How Much Does a Glass of Prosecco Cost Around the World?
Out of our list of most popular cities in terms of searches for the term 'prosecco', it seems like Italy, specifically the fashion capital of Milan and the birthplace of this very special wine is the number-one place you need to hop on a flight to, if you want to be surrounded by like-minded prosecco fans and get as close to the authentic experience as possible.
The downside? The average glass of it will set you back around €16 euros (approximately £13.68), making it the most expensive out of our worldwide searches list. The cheapest in our top 10 worldwide list goes to Warsaw in Poland — a glass over there is just €4.63, or £3.94.
If you want something a bit closer to home without leaving the UK, then out of the top ten UK cities we found, you'll want to head to Edinburgh, or any Scottish town of your choice for that matter. Again, out of all the cities ranked in the UK, it was the most expensive price for the average glass of Prosecco, standing at roughly £7.22.
Surprisingly, you'll find it cheaper in London, with the average glass there going for around £6.08, so head to the actual capital for a cheaper option.
According to Statista, the most expensive city for a glass of is over in Dubai, with it costing around €34.25 euros, or nearly £30. For the cheapest glass money can buy, head to Budapest in Hungary — it'll cost you a very cheerful €4.27 euros, or around £3.64. Can't argue with that!
What time of year is Prosecco the most popular?
Whilst any time is a good time for some prosecco, based on Google search trends, it reaches its peak during the festive season. Christmas and the New Year period are super popular periods where glasses are flowing with this iconic drink.
Bubbly Gift Ideas – Our Top Picks
Luckily for you, you won't have to wait until it starts snowing to get your fix. Check out our prosecco gifts, featuring food and drink hampers, hilarious T-shirts to declare your love for it and loads more present ideas that are sure to make any wine aficionado smile. We'll raise a glass to that — cheers!
Shop the entire range and celebrate National Prosecco Day on August 13th with style today!
Methodology
We created our top 10 lists with regional and worldwide Google Trends data, which is accurate as of August 2021. We did this by searching for the term 'prosecco' and first filtered by data from the United Kingdom, followed by data worldwide. This then gave us our rankings, allowing us to compile the most popular locations where the term prosecco was searched for.
Check out IWOOT's complete selection of prosecco gifts.