Nation's Favourite Biscuit Has Been Revealed
It's National Biscuit Day and we've been digging into Google to find the nation's favourite biscuit. It's official, Biscoff has claimed top spot.
Every year on the 29th May is National Biscuit Day. But have you ever wondered which biscuit is the most popular? Well, here at IWOOT we have ranked the UK's most loved biscuit and also divided our findings into which UK regions and cities are most into their biscuits.
It may come to you as no surprise, but us Brits love a biscuit or two. According to Statista, the sales value of biscuits in 2020 was an astonishing 534 million British pounds.
We all have our personal favourites and often debates amongst our folks on the Nation's most loved biscuit. What is it that you like about the biscuit? Do you like the sweet filling in the middle? The buttery goodness of a shortbread? Or the tantalising crunchy Biscoff?
Whichever you choose, there's always someone who disagrees.
Using Google Keyword Planner and Google Trends data, we investigated further to find out exactly the Nation's most loved biscuit.
UK's Top 10 Most Loved Biscuits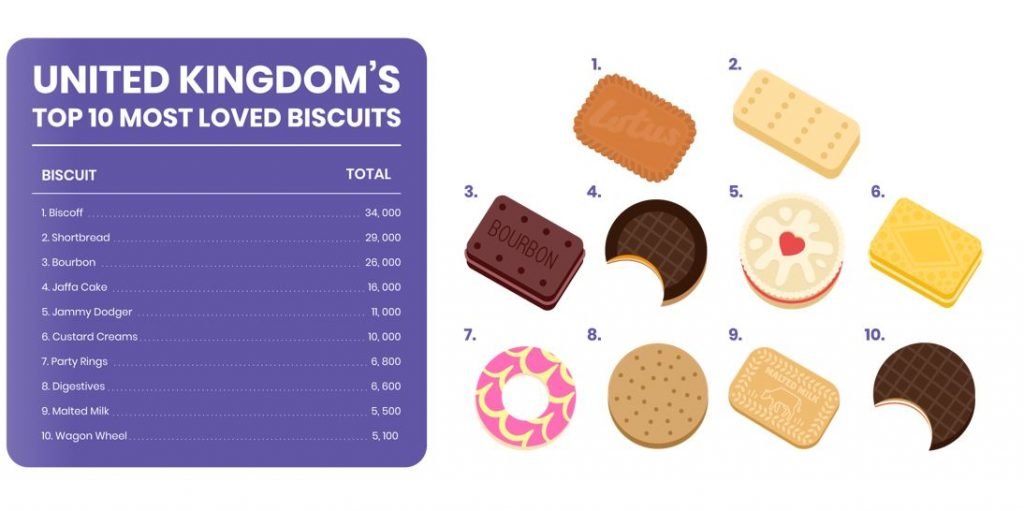 Biscoff – 34,000
Shortbread – 29,000
Bourbon – 26,000
Jaffa Cake – 16,000
Jammy Dodger – 11,000
Custard Cream – 10,000
Party Rings – 6,800
Digestives – 6,600
Malted Milk – 5,500
Wagon Wheels – 5,100
The biscuit that came out on top wasn't the retro party ring neither the classic custard cream but rather the humble Biscoff that claimed victory. This delicious caramelised rectangle-shaped biscuit triumphed over classics such as malted milk, digestives and bourbon biscuits. What's more, we're calling Jaffa Cakes a biscuit!
We also divided our findings into UK regions and cities.
Which Regions Search For 'Biscuits' The Most?
It seems like England love a biscuit or two with their brew, with the region claiming top spot for having the highest amount of searches for the term 'biscuits'.
England
Scotland
Wales
Northern Ireland
Let's break down the results further into cities.
Which City Search For 'Biscuits' The Most?
While England was the region who searched for the term 'biscuits' the most, it doesn't surprise us that all cities on the list are from England.
Batley, Yorkshire
Wirksworth, Derbyshire
Cowfold, West Sussex
Brookwood, Surrey
Bramhall, Greater Manchester
Maidstone, Kent
Stapleford, Nottinghamshire
Northwich, Cheshire
Beckenham, Bromley
Debenham, Ipswich
The city who loves biscuits the most is, Batley in Yorkshire. York is known for many a things including tea, scones, Yorkshire pudding (obviously) and more. Did you know Fox's biscuits was originated there? This may explain one of the many reasons why Yorkshire folk love biscuits. Oh, and if you haven't yet tried the Yorkshire Tea, Malty Biscuit tea, you need to.
Methodology
The team at IWOOT analysed Google searches for 21 of the most popular biscuits using Google's Keyword Planner from previous 12 months. This then helped determine UK's most loved biscuit.