Shopping for gifts doesn't mean they have to be expensive, as the best things can sometimes come in the smallest packages.
All presents can be special regardless of the price, as long as they're meaningful and appeal to the special person's interests.
Setting budgets for presents is something we all do, but in some cases we want to make them low. This can often be the case if you're in a relationship, buying for friends and family or involved in workplace giving such as secret Santa.
So with this in mind we've listed some of our favourite gifts under £10 across IWOOT, all ideal for a range of occasions.
Gift Ideas Under £10
Setting a smaller budget can allow you to focus on things possibly more tailored to the person and we've picked out a combination of thoughtful and funny gifts that we think will go down a treat with them.
Presents don't need to be expensive to be a big hit and our selection of cheap gift sets and ideas are perfect for any occasion when you're searching for that something a little extra. Our list includes a range of funny and practical presents that represent great value for money.
These cheap gift ideas make superb stocking fillers, great secret Santa gifts, small birthday presents and we're sure that they'll put a big smile on the lucky recipients face.
Best Gifts For Less Than 10 Pounds:
1.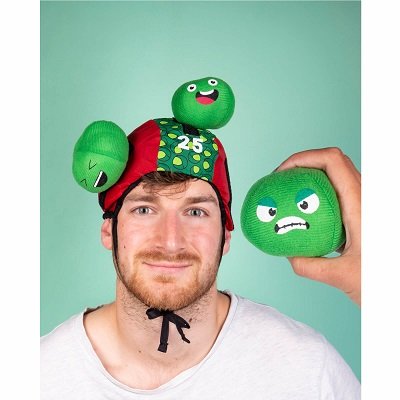 I don't know about you but I've never thought about throwing sprouts at my friends head before, but now I have, it's all I want to do. This game is about as ridiculous as they come and it looks like an awful lot of fun. To play, one of you wears a Velcro hat whilst the opponent gets to throw sprouts at their head, yes you really did read that right. Do cheap gifts get much better than this? I'm not sure.
2.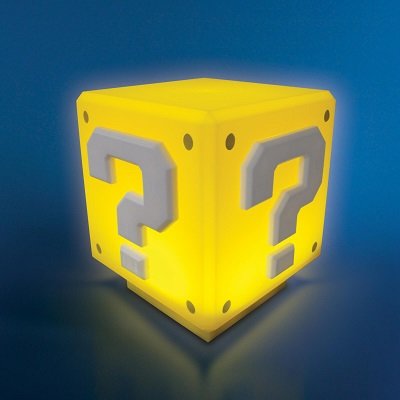 Everybody loves Mario, this isn't even a debate. So bring part of this icons legacy to life with this nostalgic question block light, the perfect present for super fans of the moustached man. This illuminates in a warm yellow and just a word warning, don't drive or jump into it – you won't become invincible. A bargain at less than 10 pounds.
3.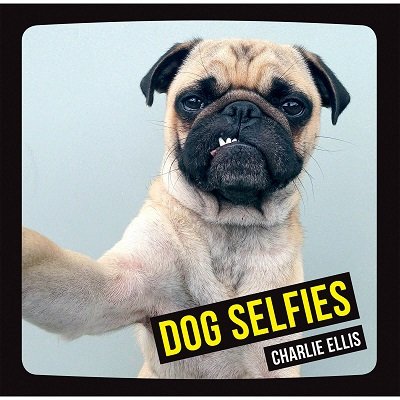 Is your friend one of those people who absolutely loves dogs but doesn't own one? Then let them bring a whole litter of them home with this barking mad dog selfies book. A great gift for him or her for under £10, it's impossible to go through this without laughing…
4.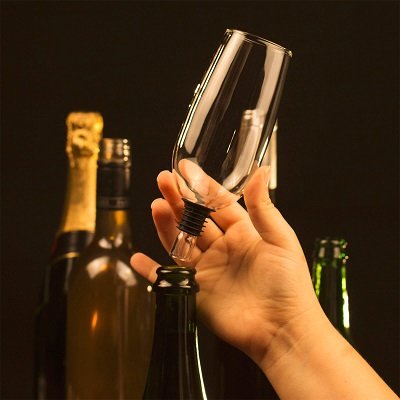 If you're buying for someone who loves the occasional prosecco or glass of wine, we think we may have something great for them. Bottomless bubbles ensures that they're always getting everything out the bottle, with this fluted glass working as a steam to drink straight from it. A fun, cheap gift idea and a classy one, right?
5.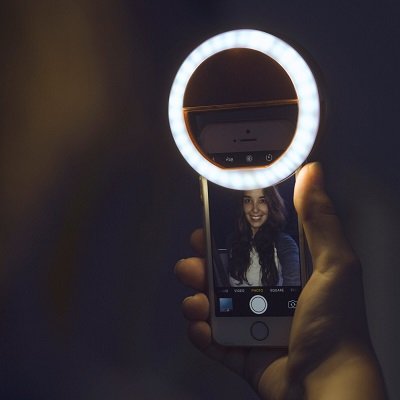 Whether or not we admit it, we all love a selfie. So for those who aren't afraid to say and embrace it, check this out. This ring light clips onto your smartphone and means you don't have to spend forever playing around with the lighting – meaning you can get a photo quicker and easier. I know a few people who need this…
6.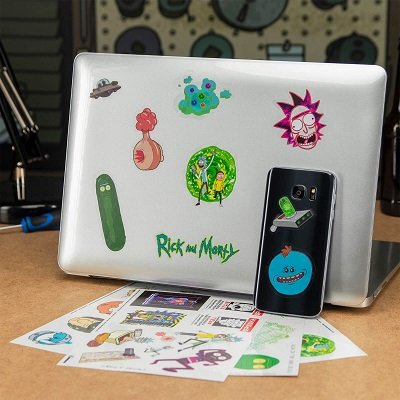 Bring some of the zany Rick and Morty universe to life with this range of decals, available to spruce up any gadget you can think of. These include some of your favourite characters and moments such as Mr Meeseeks, Snuffles, the Plumbus, Rick's Portal gun and much more. A fantastic cheap gift set coming in at well under £10, who wouldn't want Pickle Rick on their laptop? Wubba lubba dub dub.
7.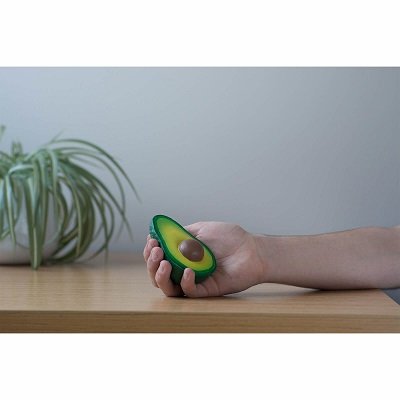 If you're buying for a friend or perhaps a health conscious work colleague, this should do the trick. They can take out all their stress and frustration with this Avocado Stress Ball. A great small gift idea, Avocado's are known for being a superfood, but this one clearly has another trait up its sleeve and don't worry, he won't make a mess.
8.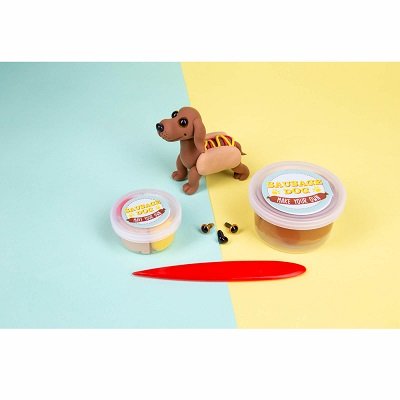 If you don't love sausage dogs then I'm sorry, it just isn't good enough. They are fantastic. So if you have a friend who's an admirer of these members of canine royalty, this could well be the gift idea for them. With this set you can sculpt your very own mini sausage dog hot dog and to be honest, it looks pretty great.
9.
What kinda list would this be without a drinking game eh? These are always a good shout when it comes to picking secret Santa gifts and this is something that your mates are bound to have a lot of fun with. And if you get roped into playing, the challenges can be pretty unforgiving, so make sure you don't lose.
10.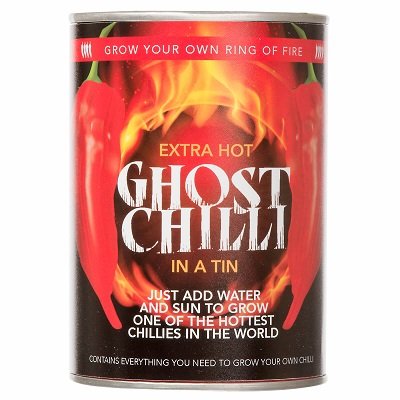 We all have that mate who thinks he can eat the hottest things going. He throws chillies into everything and shows off by ordering a fal when you're getting a Rogan Josh, well we have the perfect gift for him here. With this you can grow your own chilli and this isn't any normal chilli, this one is bloody hot. This is the ultimate for chilli lovers and even though your friend can handle their heat, don't be surprised if their grasping for the water or milk after this.
11.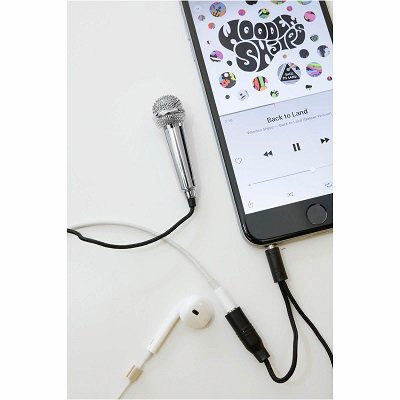 Karaoke is a guilty pleasure of everyone. After a few drinks everyone thinks that they're the best singer in the world and now with this quirky smartphone accessory, you can enjoy it wherever you are. Simply plug this mini microphone into your phones headphone jack and boom, you have karaoke on the move. We're sure a work colleague would appreciate this small gift idea.
12.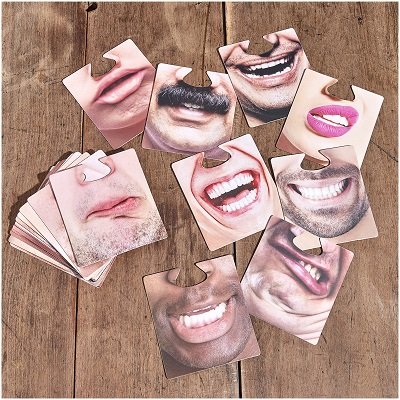 Another super fun present idea to feature on our list, face mats certainly add a new element to selfies. Simply clip this onto your nose, get the camera ready and you have a pretty hilarious photo ready and waiting – great for birthdays, Christmas and other special occasions. With them under £10 they represent fantastic value for money and provide lots of entertainment. This pack includes 40 different photos, so there's plenty of potential for laughs. When I tried them it allowed me to finally have a beard… #goals
13.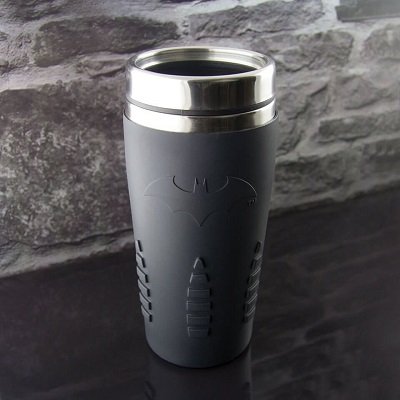 You didn't think that everything on this list was going to be silly, funny presents did you? Well if you did you're not that wrong, but we've also slipped in something practical and pretty cool looking. We're not sure how Batman drinks his coffee when he's flying around the streets of Gotham but this slick creation looks like its come straight from the bat cave. This travel mug is perfect for fans of this DC Comics legend and it comes in at under 10 pounds – bargain.
14.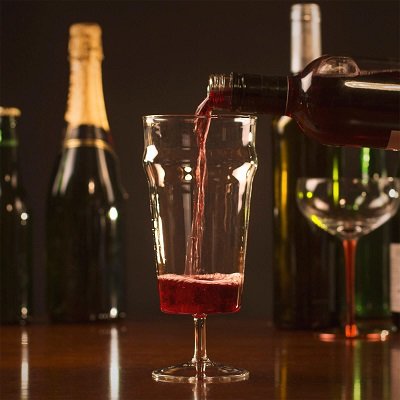 You can now look fancy and sophisticated whilst enjoying your favourite pint with the Pint O Wine Glass. This looks like your average pint glass but the wine stem will make those bitters and lagers look classy – we think. If you have someone who enjoys a drink every now and again in the family or as a friend, they're bound to enjoy this.