The government have introduced an "Energy Price Guarantee" capping bills at £2500, limiting the increase to 27% this October instead of the 80% – but what if homeware prices climb as well?
Almost everything is rising as inflation soars into the double digits, leaving Britain battling to keep up with rising living costs. Consumer goods are likely to rise marginally, but not as much as gas and electricity, so we decided to explore how much homeware would cost if prices rose at the same rate as energy costs.
For comparison, we have only highlighted the years 2021 and later. Winter price caps were in force in 2021 from the 1st of October 2021 to the 31st of March 2022. Summer price restrictions will be in place from April 1st to September 30th, 2022, while winter price controls will be in effect from October 1st to December 31st, 2022.
Do you consider yourself a homebody? Check out how much it may cost to furnish each room in your home.
Living Room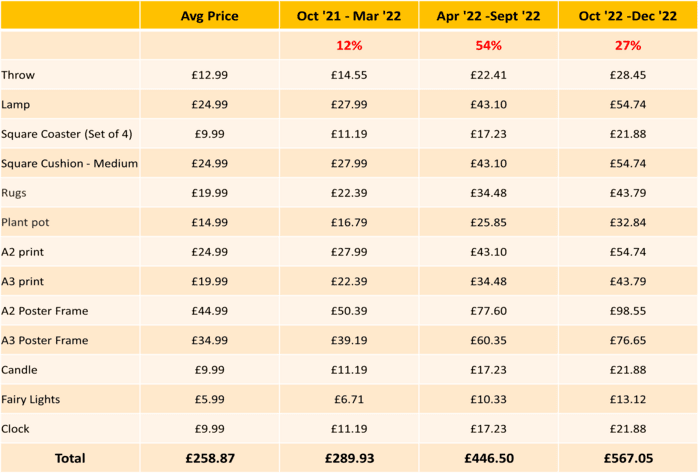 The living room is the heart of the home. Not only is it a place for socialising with family and friends, but for many, it's a place to curl up, watch the latest drama or docu-series, and unwind with a hot cup of tea or glass (or two) of wine.
If you want to add more of your personality to this hub, it would ordinarily cost you £258.87. However, if the price of living room products rises at the same rate as the energy price cap, it could cost you an eye-watering £567.05. Ouch!
Kitchen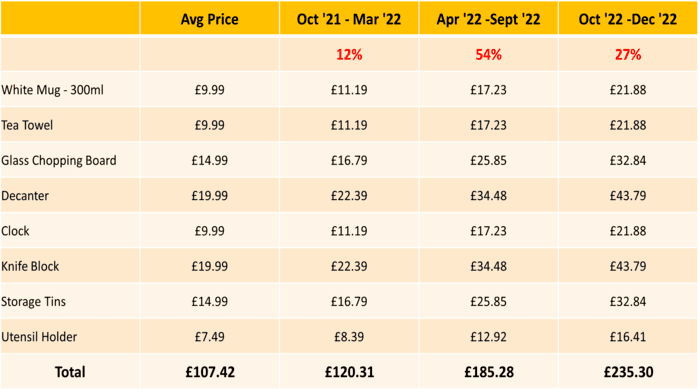 At the best of times, accessorising your kitchen is not cheap, especially if you add appliances and gadgets to your shopping list. We calculated how much it could cost if you buy only the basics, excluding main kitchen equipment, and the total could be up to £235.30.
Bedroom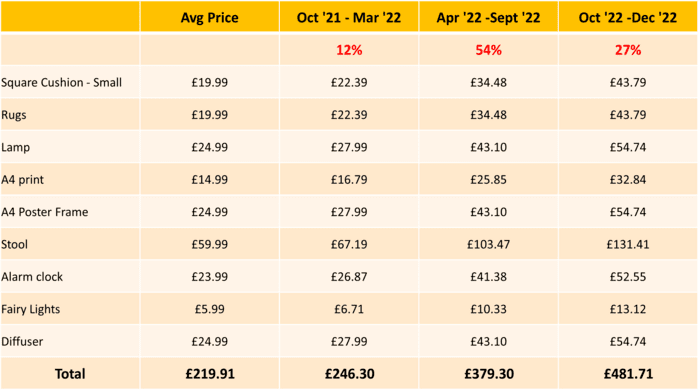 Your bedroom is your safe haven, a place where you may get away from the stresses of the outside world. Decorating your bedroom with soft furnishings and home décor is one way to make your space feel like yours, but if prices climb in line with energy bills, it could cost you up to £481.71.
The cost of a diffuser could be a shocking £54.74. If this were true, we'd certainly look for other ways to make our house smell lovely.
Here are just a few inexpensive ways:
1. Sprinkle baking soda on carpets
2. Place lemon and orange peels to refresh your bins
3. Dilute fabric softener with water and wipe your surfaces
4. Add a few drops of essential oil to your vacuum
Bathroom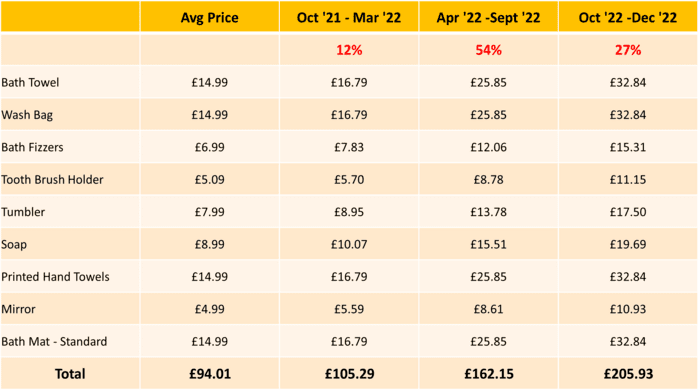 In keeping with the energy increase in October 2021 last year, furnishing your bathroom would cost you £94.01; but, with the 27% price cap in effect, prices might rise to £205.93. That's a massive 119% growth in a single year.
In actuality, no such significant growth in consumer products is expected. However, as the phrase goes, money cannot buy happiness, and true wealth is a smile on your face. On the other hand, there's nothing wrong with treating yourself to something extravagant once in a while, so touché.
To all you homeowners, fret not. IWOOT will not be increasing our prices. From soft furnishings, home décor, and kitchen gadgets, you will find everything and anything under one roof. Shop our homeware range now, and see what bargains you can find.
Disclaimer: The prices for each product were calculated by looking at UK energy price cap increases from October 2021 to March 2022, April 2022 to September 2022 and October 2022 to December 2022. Although the "Energy Price Guarantee" will limit bills to £2500, the government are paying out £400 to every bill payer to help offset the higher energy bills.
The average cost of our homeware products is reflective of factors including material, artwork and personalisation.
This article is purely for entertainment purposes.
Source: https://commonslibrary.parliament.uk/research-briefings/cbp-9491/