LEGO is a household name in the toy business and is actually one of the world's most powerful brands. The Danish company began creating LEGO Bricks in 1932 and has since had an unprecedented impact on various areas of popular culture and is recognised as one of the most popular kid's toys of all time.
To put that into context, approximately 7 Lego sets are sold every second around the world, which is more than 600,000 LEGO sets each day. What's even crazier than that, is that LEGO Minifigures are the world's largest population, with over 4 billion of them around the world! What started out as a small Danish carpentry business, has now become a modern, global enterprise and one of the world's largest toy manufacturers.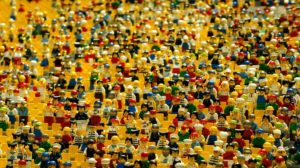 But the brand doesn't only make kids toys, but also collectable sets and adult LEGO sets. Altogether the brand has over 40 different themes. These themes include Technic, Harry Potter, Ninjago, Architecture, Creator, Star Wars, Superheroes, and more!
Unless you live under a rock, you have probably seen the various LEGO movies, animated television series, board games, merchandise, clothing, and the many LEGOLAND theme-parks. Basically, LEGO is massively popular among kids and adults alike, and if you're looking for the best LEGO gifts and merchandise available now, you're sure to love this handy guide that will hopefully tell you just that!
Buy now

with IWOOT

This Gift will truly help your loved one live out their film making dreams! Build the movie stage and choose your background from the options that have been inspired by the Lego movie 2! Use Emmet, Wyldstyle, and other iconic Lego Movie characters to plan scenes and act them out and use your smartphone or camera to record them and edit them. Families will love this unique Lego Gift as it brings their imaginations to life. Re-create your favourite scenes from the films or create your own!  

 

Buy now with free delivery
Check out our LEGO Gifts Page for more great present ideas.