Pub? No, let's stay at home!
Why go to the pub when you can bring the pub to you? This Beer Keg Chiller and Dispenser does exactly what it says on the tin - except there isn't a tin, but you get our drift. Just tilt your glass under the tap and salivate as your personal pub dispenses the perfect pint - if you're clever, all without you having to move from the sofa.

The dispenser not only holds a five litre keg (not included), which is almost 9 pints in the real world, but it also has an internal cooler system, to ensure your beaded beverage reaches your lips in perfect condition. It's practical too (not that that matters much when you've got a bar in your sitting room), featuring a removable drip tray for easy cleaning, a chrome-railed glass storage area and some serious insulation, ensuring that your treasured nectar stays at the perfect temperature and your beer arrives quietly.

Now you can play at being landlord for all your mates - make sure they chip in for the kegs though. It's great for parties, barbecues, watching the game or just having that oh-so-slightly superior feeling of pulling your own pints at home - marvellous.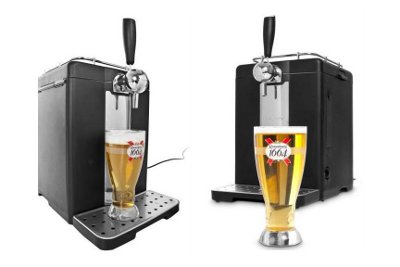 Features:
Beer Keg Chiller and Dispenser
Traditional pub keg tapping for direct to glass serving
For use with 5 litre kegs - will work with both non-pressurized and pressurized kegs
Dual system operation: CO2 for non-pressurized kegs and standard for pressurized kegs
ON/OFF indicator light
Removable drip tray for easy cleaning
Chrome rail storage space on top, for empty glasses (glasses not included)
Non-slip rubberized feet and integrated cord storage
Double-layer insulation with virtually no noise to maintain optimal temperature for serving through thermal electric cooling
Suitable for ages 18+
For instructions on how to set up Pressurized and Non-Pressurized Kegs Click Here.
Contents:
Beer Dispenser
Tapping System
Pressurized Keg Adapter
Non-Pressurized Keg Adapter
Please note: Keg not included
Size:
Dimensions: 40 x 26 x 45cm