Whether you have a home office or travel to work, it's a place where you spend the majority of your time.
It's the place where you're at your most productive which means it needs to be a comfortable, focused and relaxed working environment.
It's also important to personalise it as you're spending significant chunks of your day there and there's a number of ways you can do this through various office accessories.
Nowadays there's a ton of cool office gadgets that can add that extra bit of sparkle to your home or impress your co-workers.
These can increase productivity, improve organisation and make your colleagues jealous – amongst several other reasons.
A little office upgrade can provide a nice little helping hand when it comes to completing those important tasks and projects and this is where these cool office gadgets really come into their own.
Cool Office Desk Accessories
Offices have changed drastically over the last decade or so, meaning that there's plenty of scope for quirky new gadgets to make your life easier.
Just about everything plugs into a USB port these days, not just your phone. Fans, lights and even fridges (yes, fridges) can be powered by this magic port and these items, along with several others, have been scaled down to desk size.
Here at IWOOT we have some of the best office accessories and gadgets around that'll make those long days working that little more enjoyable. These make a great gift for a co-worker, a friend or nice little treat for yourself.
These little additions will offer a helping hand when things get difficult and make your desk stand out from the rest.
Below we've included 10 of the best office gadgets, we're sure you're going to love them.
10 Cool Office Gadgets:
1.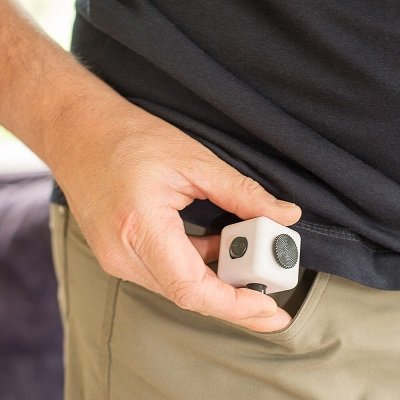 Everyone loves a good fidget and with this cool little contraption you can keep your fingers busy during those intense days in the office. This cube has a range of different functions allowing you to click, glide, roll, spin, rub and flip, ensuring that your hands never get restless. This fits nicely in your pocket and we're pretty sure that this office accessory will come in handy during those long days at work.
2.
Being indoors at work when the sun is shining is just the worst isn't it? Well let's raise that – being indoors when the suns out and the office has NO air conditioning. Now that's the bloody worst. Well, all the pain of that heat and jealously of the weather can soon be resolved with this pretty nifty USB fan. Simply take it out the box, plug it into your laptop and boom – you'll be cooling down in no time and we're sure you're colleagues will be getting very jealous. It ain't easy being breezy.
3.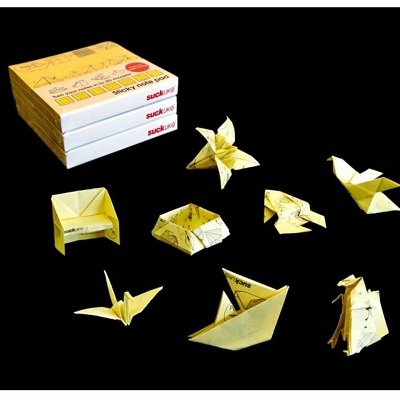 It can be hard to remember everything at work, so this is where sticky notes become an essential item. They're a great way of quickly jotting down important pieces of info and they can be placed anywhere, meaning that at the end of those long, gruelling days you're not forgetting things. So, you how at IWOOT we love quirky gifts. How about these origami sticky notes? These will remind you of those key bits of information and look pretty damn great in the process. The pad includes 100 notes and 10 easy to follow diagrams for various models. Remember things and look great in the process – a neat office accessory.
4.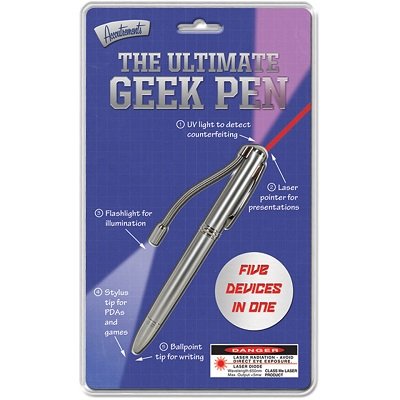 We may spend the majority of our time on our laptops and computers but the old fashioned way of doing things is still important – the trusty pen and paper. Sometimes doing things the traditional way is the best way but this slightly different take on the pen is a bit of a game changer. This ultimate geek pen comes with five different functions which includes a UV light, laser pointer and a flashlight! Pull this bad boy out at work and your colleagues are going to think you're James Bond – a proper office gadget.
5.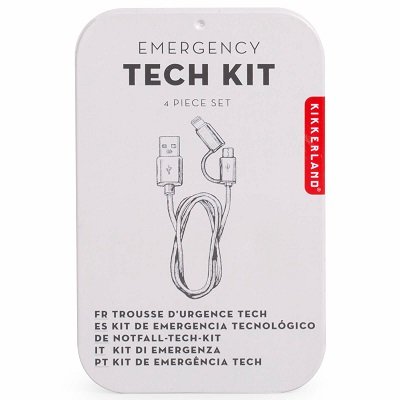 Are you one of those people who always forgets their charger for their various devices, well all that can be a thing of the past. The emergency tech kit features a 12-in-1 USB cable (yes, a TWELVE in one) along with a red cable tie, microfiber cloth and a 5ml bottle of screen cleaner to ensure that your laptop and monitor are always in great nick. All those tech worries are a thing of the past with this little kit.
6.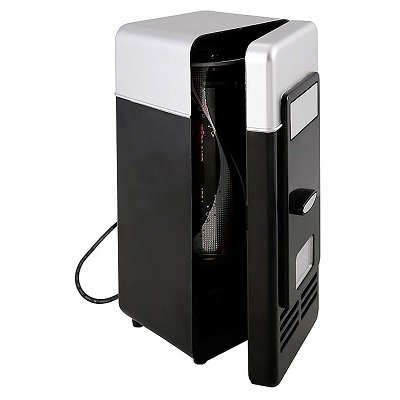 This has to be our highlight of the list, it's honestly going to take something special to top it. Just when you thought you had seen it all in terms of cool office gadgets, this beauty comes along. Enjoy maximum refreshment with this fantastic USB fridge. Powered by your laptop/computers port, this will bring a can of soft drink to perfect drinking temperature within minutes and it'll take your office by storm. The retro design of it makes it really stand up and we're huge fans of it. This is up there with the very best office accessories, for sure.
7.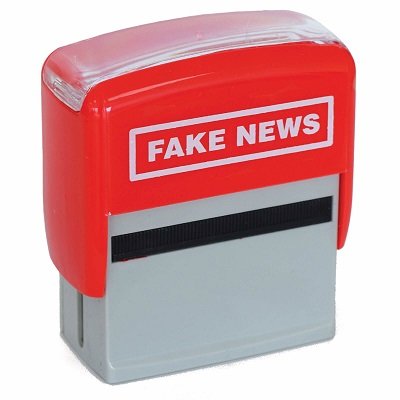 'Fake News'. A term that's now used around the world courtesy of US President Donald Trump. Everyone is using it and you can now bring it to work, with this funny office gift. This little stamper will print 'Fake News' in bold red letters wherever you want, on whatever you want. This will give you the feeling of authority that's for sure.
8.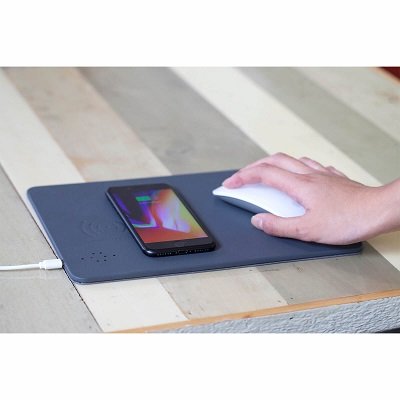 Again, if you're one of those people that is useless with remembering charging cables etc. then this will be right up your street. This sleek looking mouse pad will not only streamline your desk and offer a smooth platform for your mouse, it will also charge your phone. Simply plug it into your laptops USB, pop your phone on top of it and use it like a normal mouse pad. What an office gadget this is.
9.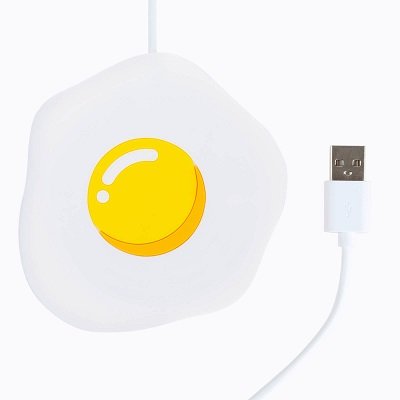 Those brews and coffees can fuel your day at work in the office so warmers are definitely a good route to go down if you want to keep them at the perfect temperature. And we're expecting this warmer in particular to go down a storm in your workplace. This 'Eggciting Cup Warmer' is designed to look exactly like an egg and we're sure that your colleagues will be trying to poach it from your desk!
10.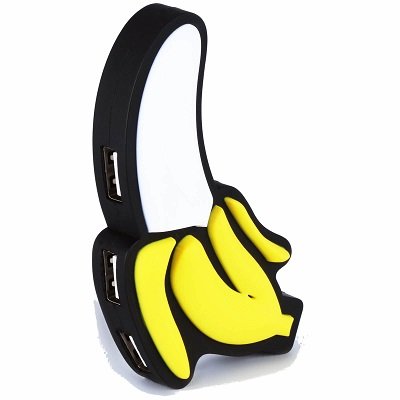 How great are bananas? They fuel your bodies, provide important nutrients and now power your devices! This banana USB hub can power up to four office gadgets at a time, this includes phones, tablets, you name it. This quirky design will add some nice colour to your working environment but we're not sure if it counts as one of your five day, however it is a pretty great office desk accessory. We're huge fans of this godly creation.