Added to your basket
Sorry, there seems to have been an error. Please try again.
Subtotal: ( items in your basket)
Sorry, unfortunately this product is currently out of stock
Other customers purchased
The Magic Wand TV Remote Control
6 weekly payments from £8.33 with laybuy Learn more
Live Chat
Average connection time 25 secs
Average connection time 25 secs
Bring the magic home...
This amazing Wand Remote Control can control your TV and most other electronic things that work via a remote; making you appear to be able to perform some pretty incredible magic tricks. Ever since Harry Potter landed we secretly yearned to be part of the magical world of Witchcraft and Wizardry and now with this wand we're a step nearer, almost.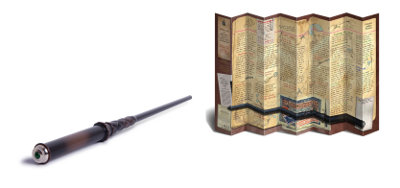 Cast spells to control the TV: flick from channel to channel, control the volume and much more. All you have to do is train your wand into learning these commands, so you will soon be turning your telly box on and off with a flick of the wand, no boring remote needed. After you've learnt the basics (it takes a few practice sweeps to get the hang of it), you'll be able to program your wand to control the volume, channel, brightness or whatever your usual remote can do.

A turning motion will control the volume, a sweep up or down will move the channel forward or back a step and even double-tapping on the side will perform whatever you assign it. In all there are 13 different motions to learn and each one can be given a separate task to complete. To do this put your wand into 'learning mode' by giving it a quick tap, perform the move you want and then press the corresponding key on your remote. The wand remembers it and performs it the next time you do the same move.
It's difficult to emphasise how much fun this is and how cool the effect is when you're merrily commanding all and sundry around you. The Stereo, the TV, the computer, the lights, anything that needs flicking on or off in the room can be controlled by a wave of your wand. Let the sorcery commence! - R.K.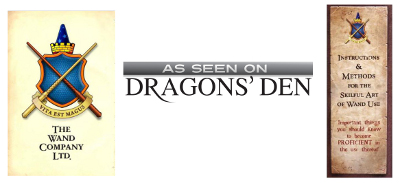 Features:
Controls any infrared device, most electronics that use a remote control - TVs, Stereos etc
Can control multiple devices, not limited to one
The wand can learn 13 commands in total
Program the wand by putting it in learning mode, performing an action and pressing the corresponding key on the remote control
Learns via infrared codes from remote control
Sleep mode function after 60 seconds of wand inactivity, works on touch
Comes packaged in its own beautifully decorated case
Requires 2x AAA batteries (included)
Suitable for ages 8+
Please note: instructions for the wand are only available in English
Full range of 13 actions:
Rotate clockwise
Rotate anticlockwise
Flick upwards
Flick downwards
Flick left
Flick right
Tap on top
Tap on side
Double tap on top
Double tap on side
Push forward
Pull back
Big swish
Compatible with Sky+ boxes. Example setup:
Rotate anticlockwise = volume down
Rotate clockwise = volume up
Push forward = TV guide
Flick up/down/left/right = navigation arrow keys
Tap on top = Select
Pull back = Back up

This leaves four more gestures (tap on the left, tap on the right, tap on the bottom, double-press on the button) for other functions, but with this set-up you can browse around and watch Sky TV quite happily.
Size:
Dimensions: 36 x 2.3 x 2.3cm (wand)
Dimensions: 39 x 6.5 x 3.5cm (box)
https://s1.thcdn.com/design-assets/trailers/wanrem.flv
Customer Reviews
Top Customer Reviews
Where reviews refer to foods or cosmetic products, results may vary from person to person. Customer reviews are independent and do not represent the views of The Hut Group.
Zoom