What is the 3DS?

The rumours had been round for ages, but that didn't stop everyone's jaws dropping the moment Nintendo officially unveiled the 3D follow-up to its DS handheld. Especially as it doesn't require cumbersome 3D glasses to enjoy its startling effects, and even offers 3D picture-taking and movie-watching!

Featuring the traditional dual-screen, the top 3.5-inch gaming display is designed to produced crisp 3D images, while the bottom 3D-less display works as the touch panel. The sleek little machine also promises improved graphics capabilities over previous DS models, as well as incorporating new motion-sensor controls, which Nintendo is confident will lead to "interesting new gaming ideas from developers".

What else can it do?

While the 3D visuals were enough to get fists punching the air in excitement, Nintendo also proudly showed off its new built-in camera with two camera lenses, enabling you to take photographs in 3D! Plus, it also carries the potential of watching 3D films on the machine, with Nintendo demoing trailers from upcoming 3D movies from Disney, Dreamworks and Disney. Better than those silly little screens on backs of airplane seats, eh?

To complete the announcement, Nintendo revealed a tantalising list of third-party publishers currently working on titles for the forthcoming system. This included an exclusive Metal Gear Solid adventure, DJ Hero 3D and high-speed racing game Ridge Racer.
Click Images To Enlarge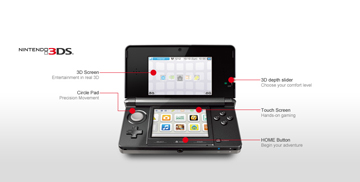 Executive Case:
Luxurious leather–like case, features flap closure protects the system
Custom-designed interior will hold up to 2 Nintendo 3DS Game Cards and 1 replacement stylus
Soft inner layer protects system and exterior lenses of Nintendo 3DS
Also suitable for Nintendo DSi and DS Lite.
Official Nintendo Licensed product.
Nintendo 3DS Console:
3D Screen:

Seeing marvellous 3D worlds come to life in the palm of your hands is an experience you have to see for yourself to believe it! The large top screen of the Nintendo 3DS system uses the latest technology to produce vivid and convincing 3D effects without the need for special glasses.

3D depth slider:

The 3D depth slider allows you to increase or decrease the 3D effect to find a level of 3D that's comfortable for your eyes: it can be increased up to the highest level, scaled back to a more moderate setting or even turned off completely, depending on your personal preference. (If children aged six and under have access to the system, parents or legal guardians should restrict the display of 3D images using the Parental Controls feature.)

Three cameras:

Photos in three dimensions:

Take photos like never before with the Nintendo 3DS Camera application! The Nintendo 3DS system comes with an inner camera and two outer cameras, allowing for pictures in full 3D. Family portraits will never be the same again!

Create your Mii:

Put yourself in the game! Anyone can easily make a personal Mii using the new Mii Maker application! Just take a 2D photo of yourself or someone else and Mii Maker will help you out. All you have to do is specify things like the colour of hair, eyes and skin and you'll have your own personalised Mii before you know it!

Augmented Reality games:

The 3D capabilities of the cameras allow you to truly enter a new dimension with Augmented Reality, in the AR Games application. Place one of the provided AR Cards on a flat surface, stand back and watch your game explode into life!

StreetPass and SpotPass:

Stay connected and be surprised! Nintendo 3DS keeps you connected to the world - when you're actively playing and even when you're not, using the low-energy Sleep Mode. Simply close your system while the power is on and carry it with you wherever you go!

StreetPass:

Interact with other players as you pass by them in the street or stand next to them in a queue. Your Nintendo 3DS system will seek out and exchange data with other Nintendo 3DS systems, providing you with new content or fresh challenges from other players.

SpotPass:

With SpotPass, your Nintendo 3DS system can detect wireless hotspots or wireless LAN access points and obtain various types of data on the spot. Free software, notifications and 3D content are just some of the things that might surprise you as you discover something new every day! (Note that receiving certain types of SpotPass content may require a system update.)

The notification LED will flash when you've received new data. Open your Nintendo 3DS system and see what's new...

Your new Nintendo 3DS system comes with everything you need to jump into the action right away! As well as your brand new Nintendo 3DS, you'll find:
Nintendo 3DS charging cradle - Keep your Nintendo 3DS in its new cradle whenever you're at home and not playing, and you'll always be charged up and ready to discover new things when you carry your system around with you.
SD Memory Card (2 GB) - Keep your music, downloaded games and software at hand by saving them on the included SD Memory Card.
Nintendo 3DS AC adapter - The power supply for your system.
Nintendo 3DS stylus - A brand new telescopic stylus that fits snugly into your system.
AR Cards (x6) - Enter the exciting world of Augmented Reality games with these packaged AR Cards.
Quick Start Guide
Nintendo 3DS Operations Manual
Parental Controls Leaflet