Redefining what it means to be a tablet, and making life more pleasurable at the same time, the all new Apple iPad.
Delivering precise, crystal clear colours on the exclusive Retina Display, the new iPad is unmatched in terms of visual quality. Packing in a mind-boggling 2048x1536 resolution, you can enjoy visuals better than those found on even the most expensive HDTVs. Harnessing the power of each pixel, the new iPad brings every game, image and line of text into the heart of the 21st century.
Powered by an A5X chip, the iPad's new and improved performance opens up a whole world of possibilities. Quad-core graphics deliver next generation visuals, while offering smoother and more responsive transitions, and even allow you to edit photographs like never before.
The new iPad's battery life is just as impressive as ever. Capable of delivering up to 10 hours per charge, you can play, read, write and enjoy more, for longer. An all new 'Instant Wakeup' feature gets the iPad ready to go in a second.
Despite already containing the best tablet technology on the market, Apple has packed the new iPad with a true HD iSight camera. Capture precious family moments in glorious HD, or record the next YouTube hit, and upload them instantly using the integrated social network tools. An improved five-element lens enhances light to deliver crisper, more stunning colours. Autofocus, face detection and automatic image stabilisation all work in sync to product the best quality images and videos around.
Take control of your tablet experience with the world's most power operating system, iOS. Easy to navigate, iOS makes your iPad a wonder to work with. Dictate your words and the iPad responds. Say goodbye to the on-screen keyboard and effortlessly speak the words you want to type. All your favourite apps are stored on the unique home screen.
Take your pick from the thousands of apps found on the App Store. Tap, buy and download without plugging it into a computer to enjoy the latest creations the App Store has to offer.
With all this, and so much more, the new Apple iPad just took perfection to whole new level. (MM)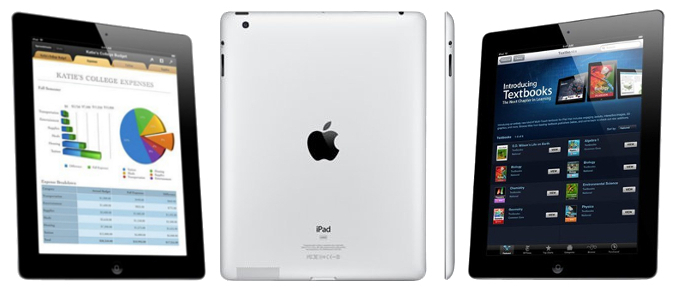 System and Performance
Processor:
Apple Custom Designed A5X
Operating System:
iOS 5 with iCloud
Display
Screen Type:
Retina LED Backlit (Glossy)
Screen Resolution:
2048 x 1536 at 264 Pixels per Inch (ppi)
Size and Features:
9.7" Diagonal
Retina Display Technology
Touch Sensitive
IPS Technology
Fingerprint Resistant
Connections
Interface:
USB
Wireless:
Bluetooth 4.0
Wi-Fi 802.11 a/b/g/n
4G* Mobile Data Connection
(Network Sim Required, 4G only available in limited locations. 3G speed maximum in non-4G activated areas.)
Audio:
3.5mm Headphone Jack
Built In Loudspeaker
Microphone
Other Features
Camera:
Apple iSight HD Rear Camera
HD 1080p @ 30fps
Standard Definition Front Camera
Battery:
10 Hours Battery Life
Internal 42.5W/hr Rechargeable Lithium Polymer Battery
Dimensions and Weight
Dimensions:
241.2mm x 185.7mm x 9.4mm (HxWxD)
Weight:
652g
In The Box
Accessories:
30-Pin Dock Connector to USB
10W USB Power Adapter
Documentation:
User Documentation
Warranty Information