Flying to a place near you
Don't worry, Jaws hasn't been resurrected, though the likeness is uncanny. This remote control toy blows all others out of the water, literally! An inspired idea, the Air Swimmer has become a smash on Youtube with almost 3 million hits. Who would've thought that an inflatable, flying shark could be so popular?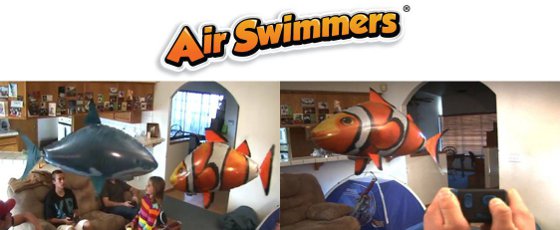 The Air Swimmer, at over 3 and a half foot, is easy to manoeuvre using a radio controlled handset. See it glide through the air as if it really is swimming, even its tail moves side to side when flying. The giant sized flying fish has complete 360 degree turning control, swimming through the air in all directions with incredible smoothness. Test your indoor flying skills by taking it from room to room, upstairs and downstairs.
Just fill your Air Swimmer with helium inexpensively at any party shop, florist, or grocery shop that carries balloons. It's made from high quality, durable nylon material which means you can fill it again and again. It requires only two batteries (one in the body, one in the controller) and then you're good to fly.

Air Swimmers were voted the 'Best Overall Toy' at the Toy of the Year Awards 2011. Remote control has never come to life so magically! - R.K.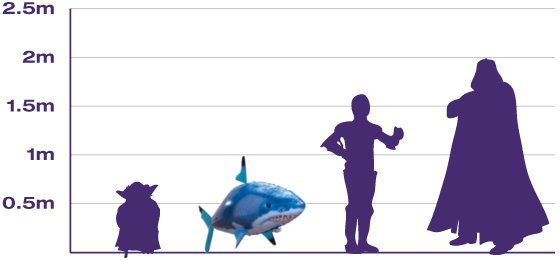 Features:
Giant blow-up fish (3ft 7 inches without fins, 4ft 8 inches with fins) - requires 1x AAA battery (included)
Radio controlled handset - requires 1x 9v battery (included)
Radio controlled frequency – Shark 27MHZ, Clown Fish 40MHz
Complete 360 degree turning movement
Will stay inflated for weeks
Can be refilled again and again
Remote Functions: climb, descend, and tail fin control
Range: Up to 40 feet
Material: Nylon
Length (with tail): 57 inches (4ft 8 inches)
Height (with fins): 36 inches (3ft)
Voted 'Best Overall Toy' at Toy of the Year Awards 2011
Also available: Air Swimmer - Remote Control Clown Fish Click Here.
Please note:
Helium not supplied but widely available from any florist or local supermarket
For indoor use only
Air Swimmers Instructions:
To view and download a PDF of the instructions Click Here.
Size:
Dimensions: 43.5 x 8.7 x 35.6cm (3ft 7 inches without fins, 4ft 8 inches with fins)
Weight: 710g