The Philips Fidelio P9 Wireless Speaker is a compact, portable and high performance way to listen to your favourite music. Offering clear and dynamic sound, the Fidelio Speaker is ideal for use in the home or on the move. Wirelessly stream your music via Bluetooth, with simple connection to any Bluetooth device.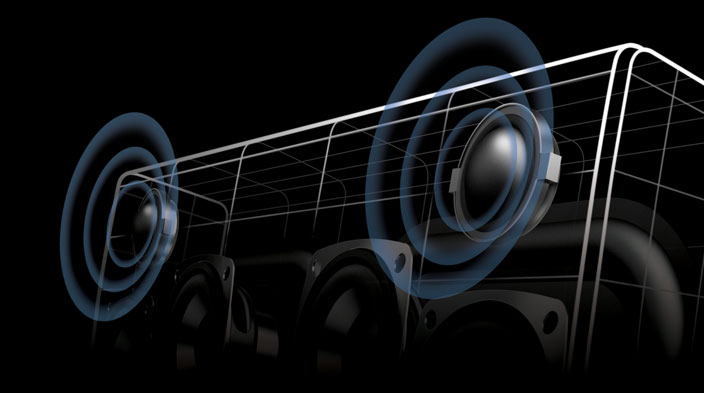 The soft dome tweeters ensure high frequencies are both detailed and accurate. This technology was first pioneered by Philips in the 1960s and has since been used in most high-end loudspeaker boxes. Its very open spatial presentation also enhances the tweeters, which offer low directivity and distortion compared to systems that only use full-range drivers. Sound is wide and natural from any angle in the listening area.
It might feature compact acoustic volume but the bass is deep and powerful, so you can enjoy every genre of music. This is possible thanks to the combined power of the full-range woofer and a large area passive radiator per channel, it's all in an incredibly rigid enclosure that doesn't lose bass energy. The large moving mass of the passive radiator means you can tune the system to an incredibly low frequency of 80Hz to prevent air turbulence that would usually be in a ported design. With the Fidelio Wireless Speaker you'll never miss a beat.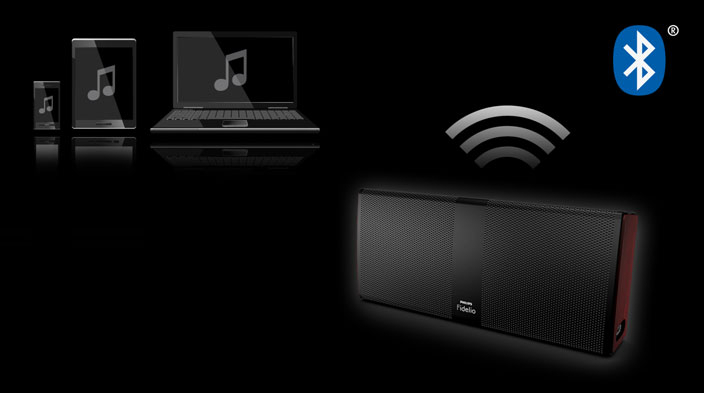 Philips' acoustic engineers have optimised the crossover filter to ensure sound stays as natural as possible, in a wide variety of acoustic environments. Whether you're listening to the Fidelio P9 in a small room or open space, at soft listening levels to max volume, voices will remain clear and natural, while the sound isn't aggressive or tiring even at high volume levels. This means you can keep enjoying your favourite music for hours on end.
High volume levels and dynamic sound amazing, due to the combination of high quality amplifier and 8 high-efficiency transducers. The tweeters and woofers in this device have a high force factor to deliver dynamic sound at every listening level. Music is powerful, dynamic and enjoyable whether your inside or outdoors.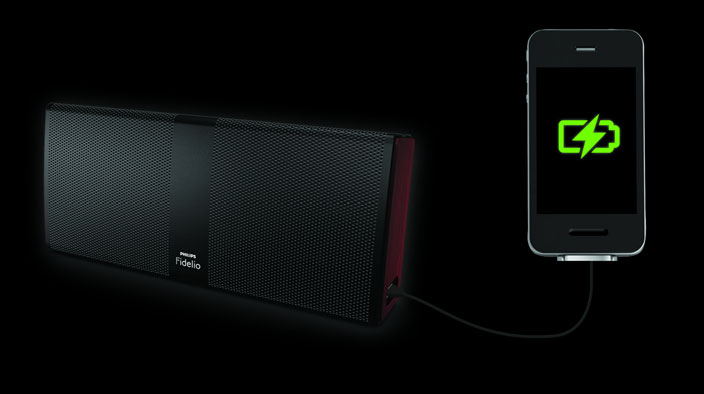 Bluetooth connectivity allows you to easily connect your iPod/iPod/iPad or other Bluetooth devices including smartphones, tablets or laptops. The Fidelio Speaker makes it easy to enjoy all your favourite music, alternatively it can be used for great sound when watching TV series, films or playing games.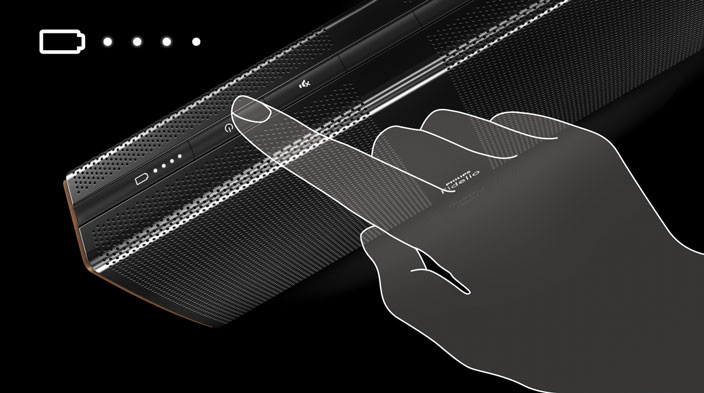 The speaker features a USB port for charging your smartphone or other device when you're at home or on the move. It transfers battery power stored in the speaker to your mobile device, so you don't have to worry about running out of battery power. To display the battery level, simply touch the speaker lightly. - A.D.

Features:
Soft dome tweeters for wide and natural sound
Woofers and wOOx technology for solid, amazingly deep bass
Optimised crossover filter for a very natural tonal balance
Premium design in natural wood and aluminium
Built-in rechargeable Li-ion battery for playback anywhere
Wireless music streaming via Bluetooth
USB port to charge any mobile device
Battery level shows automatically when speaker is touched
Audio-in for easy connection to almost any electronic device
Includes UK and EU AC leads
Technical Specifications:
Compatibility: All Bluetooth Devices
Loudspeakers: Loudspeaker enhancement: wOOx Bass Radiator, Speaker drivers: 2 x 3/4" soft dome tweeter, 4 x 2", full-range woofer, Output power (RMS): 20 W
Accessories: AC-DC Adapter, Quick install guide, Warranty certificate, World Wide, Warranty leaflet
Connectivity: Bluetooth profiles: A2DP, Bluetooth range: Line of sight, 10 m or 30 ft, Audio in (3.5 mm), USB charging
Dimensions: (WxDxH): 287 x 63 x 127 mm
Power: Power supply: 100-240 VAC, 50/60 Hz, Battery type: Li-ion (built-in), Operating time on battery: 8 hr