Discover a wealth of exciting new ways to enjoy home entertainment with Wii U, Nintendo's next home console. With a revolutionary new touch screen controller, precision motion controls, and full HD graphics, a whole new world of play styles and gaming possibilities is on the horizon. The time is coming to truly expand your idea about what a game console is - and can be. The system launches in 2012 and includes the new Wii U console and amazing new controller.

Wii U Console: 8GB Basic Pack will Include:
8 GB memory
Wii U Console in White
Wii U GamePad in White
Wii U AC Adapter
Wii U GamePad AC Adapter
High Speed HDMI Cable
A New Wii Console Experience:
According to Nintendo President Satoru Iwata, "Wii U redefines the structure of home entertainment by fundamentally changing how the TV, the game console and the Internet function and interact together", he continues, "The experience enabled by Wii U and its new controller takes players deeper into their games, while reaching out wider than ever before to be inviting to all kinds of gamers".
Wii U combines motion-sensing gameplay with the ability to support full HD graphics. Each Wii U console will be paired with a new groundbreaking controller, with its 6.2-inch wide screen. Previously, video games played on home consoles have been confined to the TV and offered identical viewpoints to each player in a multiplayer environment. The Wii U controller enhances that experience with different viewpoints available in-game and in differing games/game situations. Also, watching TV and playing console games have been completely separate experiences. The new controller removes these boundaries, creating a more dynamic and fluid gaming and entertainment experience. Examples of this new functionality include:

Within Single Player Games:
While in-game, the new controller can display information on its screen that does not appear on the TV. The information and viewpoint can also change in the new controller based on the orientation of its gyroscope.

Within Multiplayer Games:
The player using the new controller can have a different experience than those looking at the TV creating a wider variety of competitive and cooperative opportunities.

The New Controller:
In addition to its 6.2-inch screen, the new controller also features an accelerometer and a gyroscope, a rumble feature, an inward-facing camera, a microphone and speakers. Adding these features to the Classic Controller button scheme -- two analogue Circle Pads, +Control Pad, A/B/X/Y buttons, L/R buttons and ZL/ZR buttons -- will enable a breadth of gameplay experiences while appealing to both casual and dedicated video game players. The Wii U system can also use up to four additional Wii Remote or Wii Remote Plus controllers and is backward compatible to all Wii games and all Wii accessories. The Wii console has sold more than 86 million units globally and greatly expanded the overall audience for video games. Wii U aims to expand that audience even further.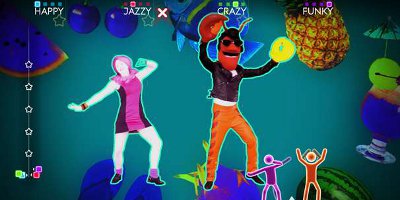 The world's #1 dance game brand is back with Just Dance 4! The latest edition of the record-breaking franchise takes the party to a whole new level of fun, with over 40 all-new hits, the coolest dances and brand new features.

Just Dance 4 is your ticket to the best new music with over 40 tracks from a variety of top artists, popular genres and chart topping hits like "Good Feeling" by Flo Rida, and "Moves Like Jagger" by Maroon 5 ft. Christina Aguilera. The tracklist also features legendary artists such as Barry White and The B-52's to get the whole family up and moving.

Just Dance 4 is the perfect catalyst for the best parties, no matter what the occasion, thanks to innovative modes like the all-new Battle mode, an upgraded Just Sweat mode, and even more fun, exclusive features for the WiiU™. Everything you know and love about Just Dance gets even better with Just Dance 4—hot new tracks, fun irreverent dances, and more.

With Just Dance 4, the party never ends! Have a blast dancing, laughing, and breaking into a sweat with friends and family all night long.

Features:
Top Of The Charts: Just Dance 4 has over 40 all-new songs, ranging from current chart-toppers to legendary favourites to classic dance party tracks! With Nicki Minaj's "Super Bass", "Good Feeling" by Flo Rida, "Moves Like Jagger" by Maroon 5 ft. Christina Aguilera, "So What" by P!nk or "You're The First, The Last, My Everything" by Barry White, everyone is sure to find the song they want to dance to. Want more tracks? Download from an expanding catalogue of new songs from the in-game store.
Just Dance-Off! Challenge your friends in 6 rounds of dance battles with the all-new Battle mode! Go head to head dancing to unique choreographies and music so you can be crowned the dance battle champion!
Bring Your Crew: With songs that feature 4 player dance routines, it's your time to shine! Each player can get their own moment of fame with unique choreographies and moves for each member of your dance crew.
Just Sweat It Out: The popular Just Sweat mode gets a major upgrade with brand new workout sessions, personalised programs, and an actual calorie counter. Stay fit, and have fun playing Just Dance!
Alternative Choreographies: Unlock alternative choreographies for your favourite tracks including ultra-challenging and outlandish routines.
Dance Quests: Find and win up to 6 challenges per song and unlock more rewards.
Dancer Card: Create and personalise your own dancer card to check out all your awesome dance stats (e.g., favourite tracks, best scores, and challenges).
Just Can't Get Enough: Just Dance 4 still has everyone's favourite modes like Duet Mode and Dance Mash-up Mode with 45+ mash-up choreographies, and more!
Be The Ultimate Party Host With The Wii U GamePad™: create your playlist, choose the next song, write on screen live dedications, take pictures and videos of your best moments, and share them with your friends.
Puppet Master Mode: Change the choreography in real time by selecting your friends' next dance move on the Wii U GamePad™ touch screen!
Somebody wants to use the TV? Take the Wii U GamePad™ with you and use it as a standalone system to keep on dancing in another room.