Brighten up any camping adventure with this limited edition tent. Covered in colourful critters in all shapes and sizes, the Always Room for One More tent is easy to spot at festivals and is guaranteed to make people smile. It doesn't just look the part either, FieldCandy tents are extremely durable and are designed to last for years. The unique design will make you the talk of the campsite whether you pitch it at a festival or campsite.
This high performance expedition tent is a classic 'A' frame storm tent construction. Based on the most durable expedition tents available on the market, it can stand up to extreme weather conditions. The designer, limited edition flysheet is made of 100% polyester and features a stylish digital print, so it's easy to spot when you make your way back to your tent after a full day of festival antics.
Packed full of features, it's waterproof to a minimum of 3m hydrostatic head, fire retardent to EU and US standard, flex and tear tested, highly UV fade resistant, treated with ultra-fresh and coated with fluorocarbon (teflon) for strength and durability. FieldCandy only uses zips from YKK, the worlds leading zipper manufacturer, and the flysheet will feature a heavy duty YKK zip with a large inner and outer toggle protected by a Velcro zip cover.

Pitching the tent is quick and easy. FieldCandy tents feature extra pegging strong elastic and adjustable pegging points for security and stability, combining to prevent roof dipping and groundsheet rucking. Unlike old fashioned tent pegs, FieldCandy pegs are made of durable, steel round-wire that will cope with most ground conditions.
Easy set up poles are high quality, high strength, low weight precision engineered aluminium alloy poles. It's surprising just how quickly this tent will pop up, simply hold each pole at one end, wiggle them a little and the clever poles will slot together by themselves for a stress-free setup. Not only are the FieldCandy poles stronger and lighter than your average tent pole, they're also more environmentally friendly.

Stay cool and moisture free when you're inside the FieldCandy tent. Whenever you breath this creates moisture and as most modern day tents are made of plastic, this moisture has nowhere to escape - resulting in a soggy tent and maybe even a rude awakening in the morning if it drips through. FieldCandy's inner tent is 100% natural, breathable cotton, so you can enjoy a dry and cozy sleep.
More spacious than a standard two person tent, you won't feel cooped up when inside and the light grey interior creates a sleep-inducing environment for a wonderful nights sleep. A mesh window delivers increased ventilation and increased light, plus there is a lantern hanging point for pitch dark evenings. It's also safe as the inner tent is fire retardent to EU and US standard CPAI-84 but always make sure any cooking, fire lighting or smoking is at a safe distance!
Tents can never be 100% secure, however most thefts on campsites are opportunist, so you can reduce the risk of your valuables being stolen by locking them away in the four pockets that can be locked. There's also lots of other useful storage places including: the four transparent storage pockets and two mobile phone/MP3 pockets, for storing anything important. - A.D.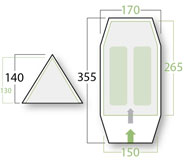 Sizes and Weight:
Outer dimensions: 3.55m (L) x 1.7m (W) x 1.4m (H)
Inner dimensions: 2.65m (L) x 1.5m (W) x 1.3m (H)
Carry bag: 0.6m (L) x 0.2m (W) x 0.25 (H)
Weight including accessories: 7.4Kg
Weight complete tent only: 6.3kg