Sphero is a revolutionary new gaming system. A world first, this 3 inch robotic ball can be controlled with a tilt, swing or touch of your smartphone or tablet. Race or roll Sphero around your home or office with Drive, Golf and other apps. Sphero can also act as an advanced controller in the palm of your hand, intuitively control games like Sphero Exile and Chromo without obstructing the on-screen action.
Share the Sphero fun and challenge your friends and family to tabletop and multiplayer games including Pass the Sphero, Tippsy and Sphero TAG (requires more than one Sphero). With over 20 apps available and more to come, you're sure to have a ball.

Race against friends on land or in water. Sphero is designed to be used almost anywhere thanks to its high-impact polycarbonate shell which protects all of the sophisticated robotic insides. With the ability to reach speeds of up to 3ft per second and a 50ft plus range, Sphero is super speedy and ready to connect and play when you launch an app. Sphero also glows in thousands of colours so you can never miss him, even in the dark!
Augmented reality apps enable you to interact with the real world, while you play in the virtual world on-screen. Sharky the Beaver is the very first app that enables you to take a virtual 3D character for a stroll around your home. Your Sphero will be brought to life as a cute and hilarious beaver called Sharky, and you can interact with the real world by throwing him virtual cupcakes to gobble up.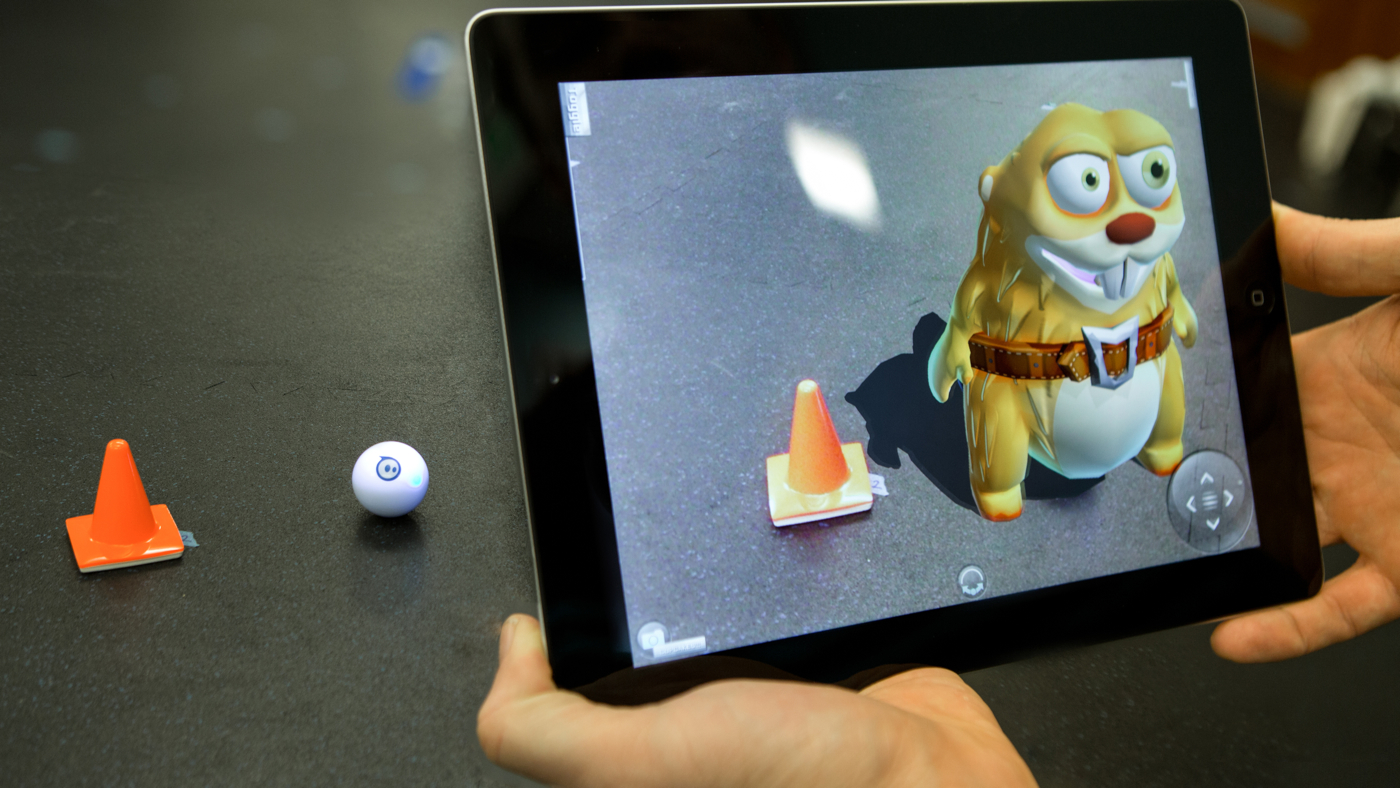 Packed full of advanced technology, Sphero features a sensor network, multi-axis rate gyro and accelerometer - fused with the mathematics which helped take Apollo to the Moon. Powered by lithium polymer batteries, Sphero is inductively recharged through the shell. Add to that Bluetooth-based command and control data link, over-the-air firmware updates and internally sandboxed language extensions, and Sphero is a truly intelligent ball of fun! Open API for iOS and Android enables developers from around the world to jump right in and start programming. - A.D.

In The Box:
Sphero robotic ball and inductive charging base
Quick Start card and user manual
Features:
Bluetooth controlled robotic ball – 50 foot plus range
Multi-colored LED capable of producing thousands of colors
Reach speeds of up to 3 feet per second with precise control
Free apps available through the iTunes App Store or Google Play
Internal guidance system including gyro and accelerometer
Induction charging
Compatibility:
iOS Requires iOS 4.0 or greater:
iPod touch (3rd, 4th, and 5th generation)
iPhone 5, 4S, 4, and 3GS
iPad 2 and iPad
Android Marketplace Android devices with operating system:
Size:
Dimensions: 74mm diameter
Weight: 168g