Patrick Troughton, the second Doctor, was the first Time Lord to produce the Sonic Screwdriver from his pocket. Ever since it first appeared on our TV screens, the iconic device has become one of the most sought after, enduring and cool gadgets.
This high-quality collectible replica of the Mark VII Sonic Screwdriver is currently used by the eleventh Doctor, Matt Smith. Beautifully designed and fully licensed by the BBC, details like the hand finished polished copper plating, leather-effect grip and bright green light up tip make the Sonic Screwdriver a must have for fans of Doctor Who.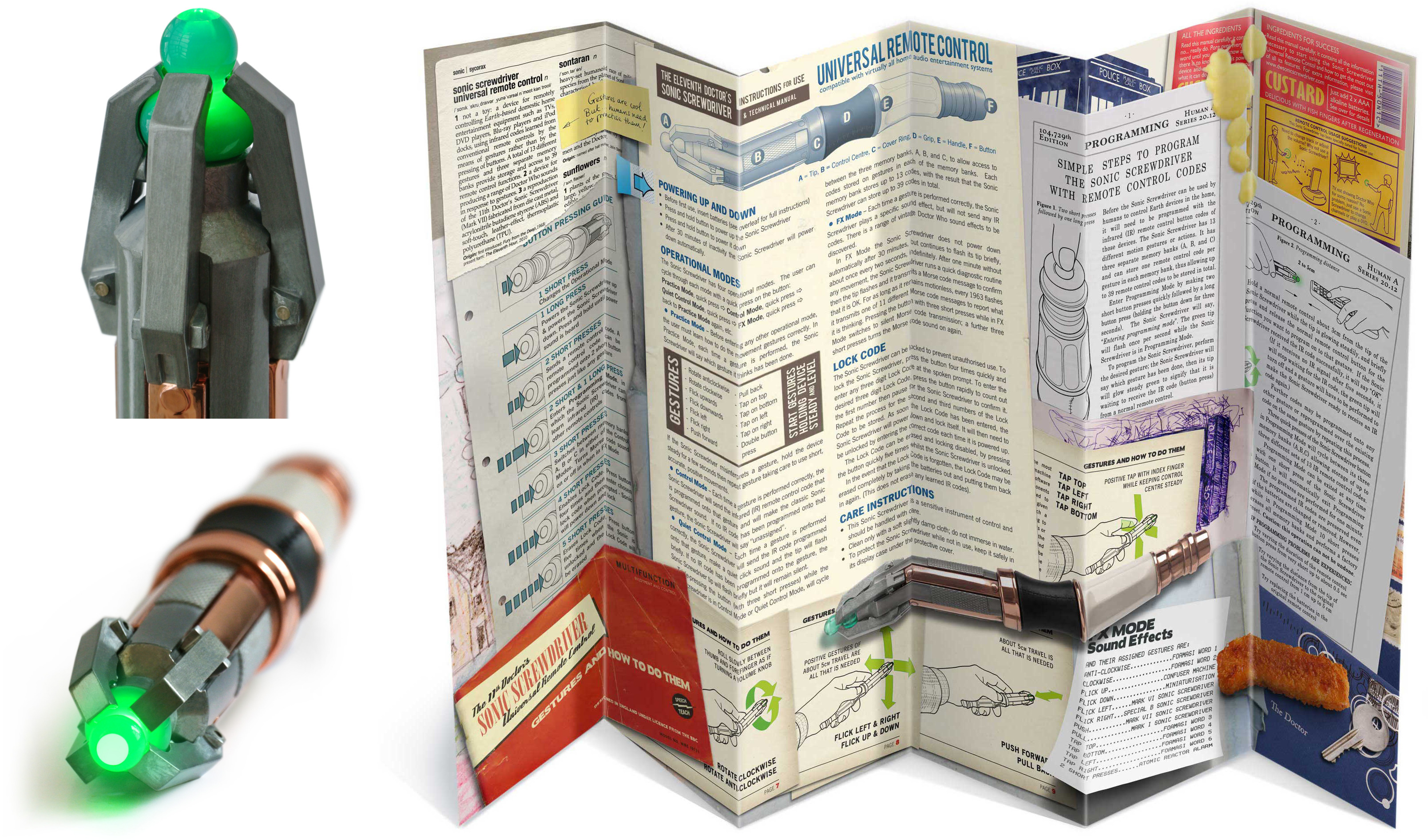 It's not only a high quality replica but also a gesture-based Universal Remote Control. Harnessing infrared (IR) technology, you can use this device to control almost any media system from TVs, DVD/Blu-ray players to iPod Docks. You can program it to switch channels with a flick of the wrist, adjust volume by rotating it or a tap on the side to skip a track. The possibilities are endless.
With four operational modes to choose from, including practice mode, you can easily learn how to control the device. On the three memory banks you can store different gestures for multiple devices. Store up to 39 commands in the Sonic Screwdriver Universal Remote Control to operate multiple home entertainment systems, with a different flick of the wrist.

For Doctor Who fans who'd like to use the device as an all-out replica, simply switch it to FX mode and the device will play 13 vintage sounds from the Doctor Who universe for every gesture you use. The device can even be locked with the Sonic Screwdriver's built-in security settings, enabling you to set a three-digit pin to block out any unwanted alien usage.
The Sonic Screwdriver Universal Remote gives fans the chance to transport a small, but important, piece of the Time Lord's technology into their own homes. - A.D.


Doctor Who logo © BBC 2012. Licensed by BBC WW Ltd.
In the box:
Sonic Screwdriver Universal Remote Control
Display stand
Clear display cover
Illustrated instruction manual
Batteries
Features:
Fully functioning programmable infrared remote control
Compatible with almost all home entertainment equipment, such as iPod docks, TVs and Blu-ray players
Guided setup: teaches you how to use it with spoken prompts
FX Mode: 13 authentic special FX sounds from the universe of Doctor Who
Advanced gesture recognition technology: 13 gestures multiplied by 3 memory banks means up to 39 remote control codes can be stored
2 x AAA batteries required (not included)
Compatible with Sky+ boxes. Example setup:
Rotate anticlockwise = volume down
Rotate clockwise = volume up
Push forward = TV guide
Flick up/down/left/right = navigation arrow keys
Tap on top = Select
Pull back = Back up

This leaves four more gestures (tap on the left, tap on the right, tap on the bottom, double-press on the button) for other functions, but with this set-up you can browse around and watch Sky TV quite happily.