The iPod nano 7th Gen 16GB is around the size of a credit card, and at 5.4mm thin it's the thinnest iPod to date. The 2.5-inch multi-touch display is almost twice as big as the screen on the previous iPod nano, so you can view more of your favourite music, photos and videos. Use the buttons to quickly play, pause, change tracks, or alter the volume. The iPod nano features a smooth and coloured anodized aluminium finish, so it feels and looks as good as it sounds.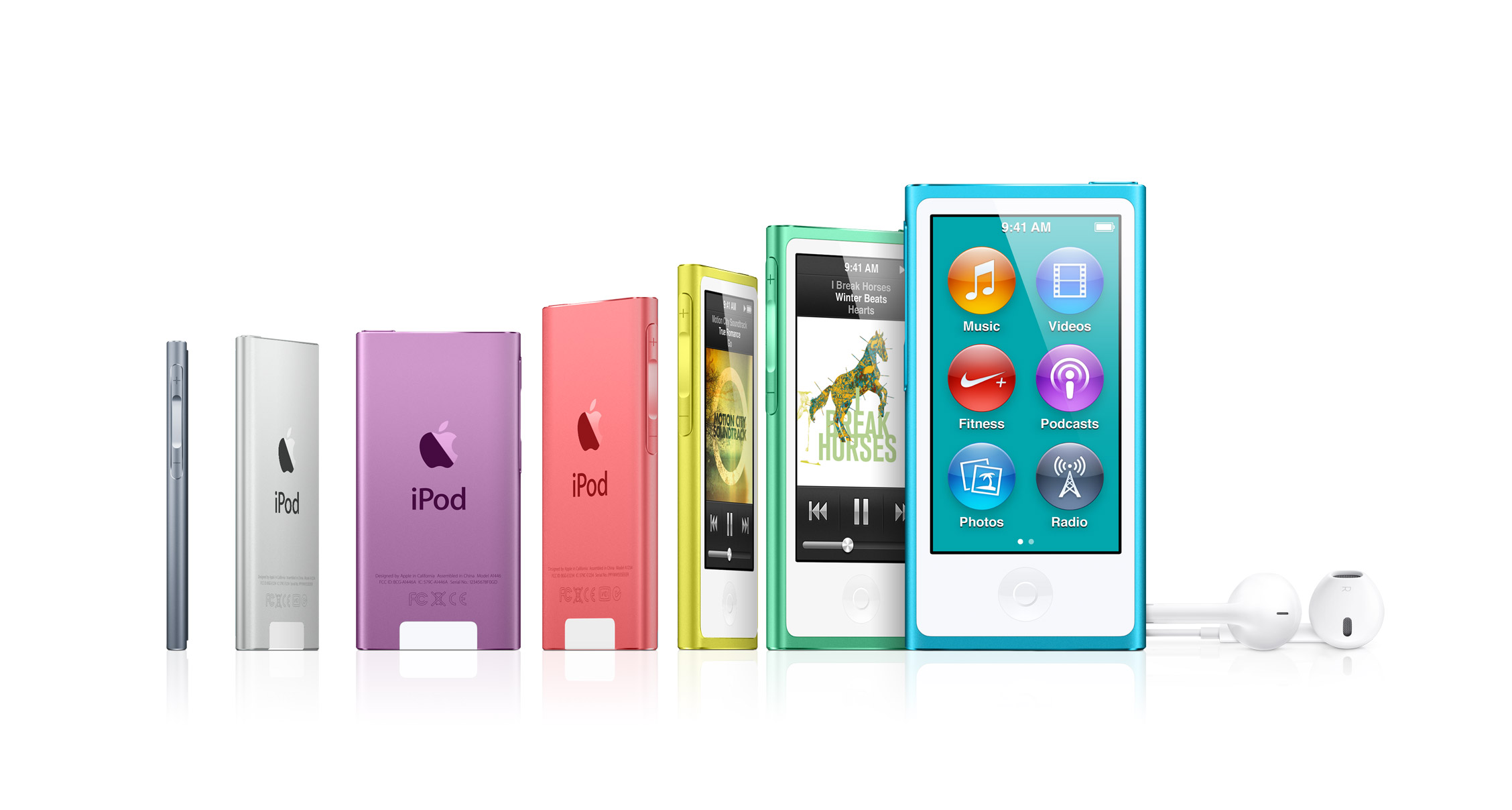 Simply tap to play the songs you love, a whole album or an artists discography. There's even the option to browse by genres or composers for the perfect music to suit your mood. Flick through your music via album artwork, which looks beautiful on the bigger screen. You can also freshen up your listening by giving the iPod nano a shake to shuffle to an alternate song in your music library.

Listening to a song and want to stay in the same mood? Tap Genius to discover other songs on your iPod nano that go hand-in-hand and create your own personalised playlist. To get more song combinations that you wouldn't have otherwise thought of, just let Genius create mixes for you in iTunes and sync your favourites to your nano. Rediscover old favourites or music that you forgot you had with the power of Genius.

Videos look great on the widescreen 2.5-inch Multi-Touch display. Watch must-see TV series, blockbuster films, free video podcasts and home videos on the iPod nano. Controls couldn't be easier, simply tap to play, fast-forward, rewind and pause functions. iPod nano's compact design but big-screen enable you to enjoy entertainment wherever you go. Your photo collection will also look great on the large screen, and with room for over a thousand photos it's perfect for sharing with family and friends.

Built-in Wireless Bluetooth 4.0 enhances your music experience. Pair the iPod nano with Bluetooth-enabled headphones, Bluetooth speakers and Bluetooth car stereo with ease. With no wires to tangle up, enjoying music on your iPod nano couldn't be easier.
Tune in to your favourite FM radio stations to keep up to date with the news, radio shows or the latest sports coverage and scores. Simply flick the radio dial to switch stations and tap to save your favourites. Live Pause enables you to pause the station when you need to take a break, tap the screen to pause the song or programme. You can also rewind back up to 15 minutes or fast forward to catch up to a live broadcast.
All new Apple EarPods have been designed to stay comfortable inside different ear types and produce the highest sound quality possible. After rigorous testing the Apple engineers and designers produced these revolutionary earbud headphones. They look Unlike any other headphone available, with audio quality that's good enough to compete with high-end headphones.

Slimming down the iPod nano meant the 30-pin dock connector would have to be replaced with a more current, smaller and better connection. This new connection is called Lightning, and is much more durable than the 30-pin connector that preceded it. Convenient and simple to use, the Lightning connection is reversible so you can't plug the cable in the wrong way. It's still possible to connect iPod nano accessories with a 30-pin connector by using a Lightning to 30-pin adapter (sold separately).

Stay in shape and smash your fitness goals with the built-in Nike+ support and pedometer. You no longer have to connect a reciever or use a shoe sensor to track your steps, distance, time, pace and the amount of calories you've burnt. Bluetooth technology enables you to wirelessly connect heart rate monitors and headphones, so wires won't get in the way of your exercise. When you've finished a workout, log on to the Nike Plus website to keep track of your activities and goals.