The Samsung ST77 is packed with features, including a 16.1 megapixel high-resolution sensor and an F2.5 bright lens, so you can capture stunning images in any lighting. Designed to look as beautiful as the images you capture, the slim and stylish ST77 has a 2.7" TFT LCD to view all your photos and HD videos.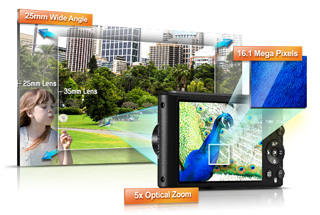 Take clearer and wider images with the 16.1 megapixel high-resolution sensor, the ST77 enables you to capture memories in vivid colour and sharp detail. With the 25mm wide-angle lens you can shoot group photos, perfect for when you want to fit all your friends or family in the frame. The 5x optical zoom means you can get detailed close-up images, even when you're far away from the subject.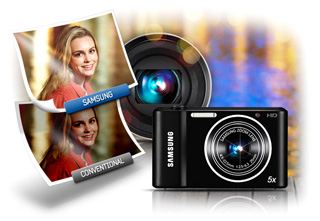 Enjoy taking photos on a night out? The F2.5 bright lens will use all the light in the room to make your shots clearer in the dark. Taking clear photos at night couldn't be easier, with the F2.5 lens you can really capture each memory in detail. Whether you're watching a sunset or enjoying a candle lit dinner, you won't have to worry about taking a blurred, dark photo or bothering others around you with the camera's bright flash.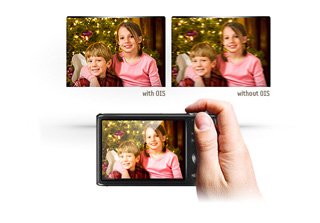 Optical Image Stabilisation ensures you capture steady and focused photos, when you're not perfectly still. If you're situated in a low light environment, are guilty of having shaky hands or zooming in to capture your subject, your photos will still be crystal clear and sharp.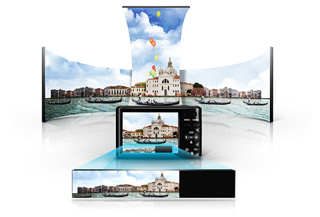 Live Panorama makes it easy to capture stunning landscape shots or cityscapes and create breathtaking 180º panoramic images. You can even see a preview of what your image will look like on the LCD before you take the photo. Simply hold the shutter button, move the camera across the scene and see what your image looks like before you even take the shot.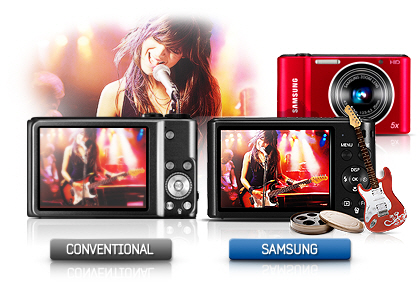 Shoot stunning HD movies in 720p, complete with sound. This powerful camera has the ability to capture 720p HD quality videos at 30 frames per second in MJPEG format. Much clearer than the average digital camera video, you'll really notice the difference in quality.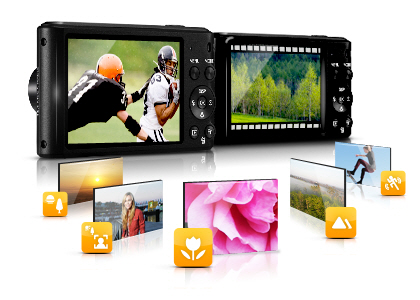 Smart Auto 2.0 automatically adjusts the camera settings to get you the best result every time you. Scene detection will identify up to 16 different shooting conditions and instantly analyse the key composition elements, then the ST68 will automatically adjust to give you the optimum settings for every photo situation.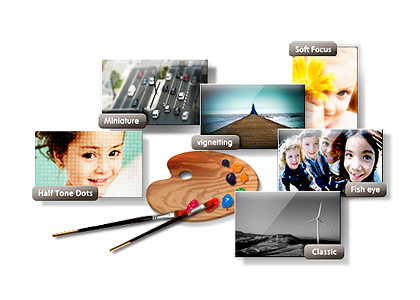 Add a fun factor to your images with Smart Filter 2.0. It's easy to make your images stand out by using the 13 lens and colour effects. Choose from the many effects, including the vignetting effect for stunning compositional contrast, fish-eye effect for videos with a unique feel or miniature effect to make city and landscape shots look like scale-models.
Specifications:
To see the Samsung ST77 specifications please Click Here.