Everything you need to pass your Driving Test, first time!
Ready for the new Theory Test in 2012. The Official DSA Theory Test Revision Questions, Answers and Explanations for cars and motorcycles. Over 400 high quality Hazard Perception clips filmed as they appear in the real test. 10 Official DSA Hazard Perception practice clips and the Official Hazard Perception Test introduction video. 24 Case study examples – designed to closely represent the Official ones that are now part of the Theory Test. Practical test– Features detailed, up-to-date information on Independent Driving and Observer on Test. Abridged Theory Test – a shorter 35 question mock test for learners who have undergone an accredited pre-driver training course. Official DSA Show Me, Tell Me questions with 19 interactive video tutorials. Learn on the move– View or listen to the DSA questions on your mobile phone, iPod, Tablet PDA or other mobile device
Free Driving Lesson and a Pass Guarantee*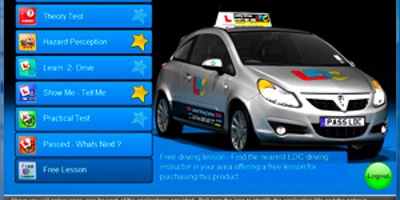 An easy-to-use, complete training aid developed by expert driving instructors. The programs covers the Theory Test, Hazard Perception and the Practical Test, plus lots of useful extras – everything a learner driver needs to ensure they pass their driving test, first time!
Theory Test Features:
Includes the 1265 Official DSA Theory Test Revision questions, answers and explanations for cars and motorcycles with 3 unique ways to learn!
The Official DSA Theory Test Revision questions, answers and explanations for cars and motorcycles
24 Case Studies – Includes 14 car and 10 motorcycle case studies, designed to closely represent the official ones that are part of the Theory Test
Abridged Theory Test– Features a shorter 35 question mock test option for learners who have undergone an accredited pre-driver training course.
Mock Test Review Feature – provides detailed feedback for tailored revision. Re-test yourself on incorrectly answered questions
Interactive Theory Test tutorial so you know what to expect on the day.
Realistic Theory Test simulations with 10 pre-designed tests based on the most commonly occurring questions.
Unlimited random tests, all with a balanced set of questions.
Print, view or search the Highway Code, plus a Free Theory Test e-book!
Learn on the move – View or listen to the Official DSA revision questions and answers Plus the Highway Code on your mobile phone, iPod, Tablet, PDA or other portable device that supports MP3 and Podcast files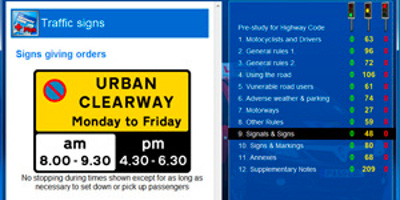 Hazard Perception Features:
With over 400 high-quality hazard perception clips, including the 10 Official DSA practice clips and the Hazard Perception test introduction video, this program will test your ability to spot potential hazards on the road. All the clips accurately represent those you will face in the real test so you can be confident you're properly prepared on the day!
Includes Over 400 high-quality hazard perception clips.
Video is shot from outside the car in full PAL resolution just as on the real test.
Interactive tutorials with animations and videos cover the test, hazard perception skills and defensive driving.
28 pre-set test simulations, each incorporating 14 clips, one for each hazard type.
Highly accurate anti-cheat mechanisms – avoid the cheat penalty and maximise your score (Most people who fail the Theory Test do so on the Hazard Perception test!
Unlimited mock hazard perception tests with the random test facility.
'Hazard Type' mock test facility lets you take a test on a specific hazard.
Review feature shows you exactly where you clicked and where points are scored.
Review and retest your 10 weakest clips to identify problem areas and ensure test success!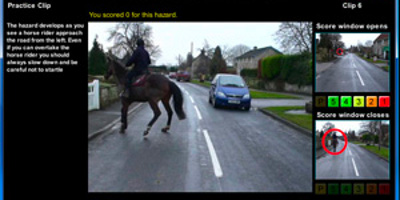 Practical Test Features:
With 20 interactive driving lessons, 19 Show Me, Tell Me questions and detailed information on the Practical Test, you'll have everything you need to prepare for, and Pass your Driving Test!
Interactive Driving test Video Game – play the role of the examiner and see if you can spot the faults!
Features 3 videos with detailed, up-to-date information on the NEW Practical Test; Independent Driving and Observer on Test
20 Interactive driving lessons using over 50 animations, videos and quizzes to help you to prepare for each driving lesson
Interactive Examiners Marking Sheet with 25 tutorials explaining what the examiner is looking for and what constitutes a driving fault.
Interactive training notes to help you correct any faults you may have identified.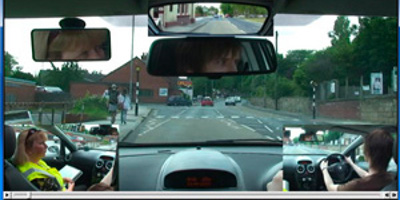 Show Me, Tell Me, Official Questions
Full Show Me, Tell Me driving lesson video with an expert instructor ,19 Interactive mock test video clips with examples of the 12 Show Me & 7 Tell Me Official possible questions
Illustrated training notes about the marking process
Highway Code
Interactive version of the latest edition of the Highway Code with professional voiceover & training notes
Signs And Signals
Learn the signs, road markings and signals via pre-study lessons
Interactive game to help learn traffic signs with ease!
Pass Guarantee
We're so confident that using this product will significantly increase your chances of passing the Theory Test, we're offering £50 worth of Avanquest software to anyone who fails the Theory Test, having thoroughly used the product*.
Free Driving Lesson Offer
Claim a free Driving lesson worth up to £28 from LDC (Learner Driving Centres), one of the UK's leading nationwide driving schools!
* Pass Guarantee only applies to the Theory Test - Terms and conditions apply – see software for more details
Free Driving Lesson offer.