There isn't much out there that beats that first crisp sip of a gin and tonic. Whether it's your go-to concoction on a night out, during a boozy brunch, or whilst you're on a plane, IWOOT UK is here to put the spotlight on this iconic pairing.
We're taking a different approach in this blog, and will be taking a deep dive into the world of gin; asking how our drinking habits have changed during and after lockdown, the nutritional value of popular gin and tonic combinations, and the top trending flavours of gin that you need to give a whirl.
When is International Gin and Tonic Day?
International Gin and Tonic day, also known as an excuse to squeeze in a ginny tipple or call it gin o'clock every hour of the day, falls on October 19th in 2021. It's unclear when it started, but what we do know is that as a nation, Gin is the most popular spirit this year when compared to other popular types, according to data from Google Trends.


According to the Wine and Spirit Trade Association (WTSA), sales of gin and flavoured gin in shops within the UK went up 22% in value – 75 million bottles valued massive £1.2 billion in 2020. Brits bought over ten million extra bottles of gin from UK retailers during 2020, compared to the same period in 2019. Flavoured gin increased its value by 31% on 2019's figure, with 27 million bottles worth £456 million.
Clearly, the spirit is a hit nationwide, particularly flavoured varieties. Which brings us nicely to our next section, where we'll be inspecting the flavours of gin everyone has got their eyes on in recent times.
Trending Gin Flavours
Whether you're a self-certified gin lover or are fairly gin-curious, you'll have probably seen the array of flavours that are available out there. While some people prefer gin in its original form, followed by the addition of tonic, there is a rising trend of some seriously adventurous and delicious flavours to choose from. Take, parma violet gin, for example – it's a nod to the well-known sweets of many people's childhoods, and can now come in the form of gin.
IWOOT have done some digging around the latest gin trends. Take a look at what we unearthed below:
The Most Popular Gin Flavours
Google seems to be everyone's best friend when it comes to looking for things, so it makes sense to take a deep dive into people's search habits when it comes to gin flavours.
Combining the number of times each flavour was hashtagged on Instagram and monthly search volume, it helped us to determine our overall rankings. We found that pink gin reigned supreme when it comes to determining what the most popular flavour out there is.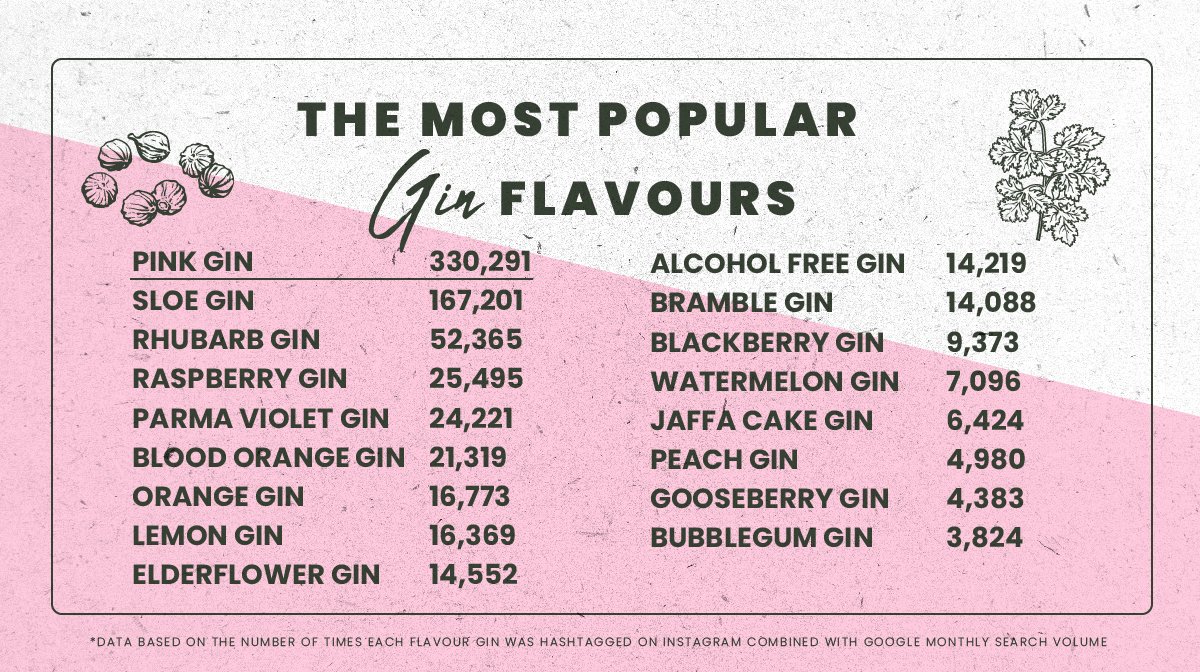 Pink Gin – 330,291
Sloe Gin – 167,201
Rhubarb Gin – 52,365
Raspberry Gin – 25,495
Parma Violet Gin – 24,221
Blood Orange Gin – 21,319
Orange Gin – 16,773
Lemon Gin – 16,369
Elderflower Gin – 14,552
Alcohol free gin – 14,219
Bramble Gin – 14,088
Blackberry Gin – 9,373
Watermelon Gin – 7,096
Jaffa Cake Gin – 6,424
Peach Gin – 4,980
Gooseberry Gin – 4,383
Bubblegum Gin – 3,824
But what even is pink gin, we hear you ask? It is essentially the same as all other types and is distilled in the same way, but the key difference lies in the post-distillation part. It gets its infamous pink colour from the added angostura bitters, which is also used to flavour many kinds of drinks, and even foods like sauerkraut! Talk about versatility. A few drops of this is enough to give it that blush-coloured hue that we know and love.
The Most Hashtagged Gin Flavour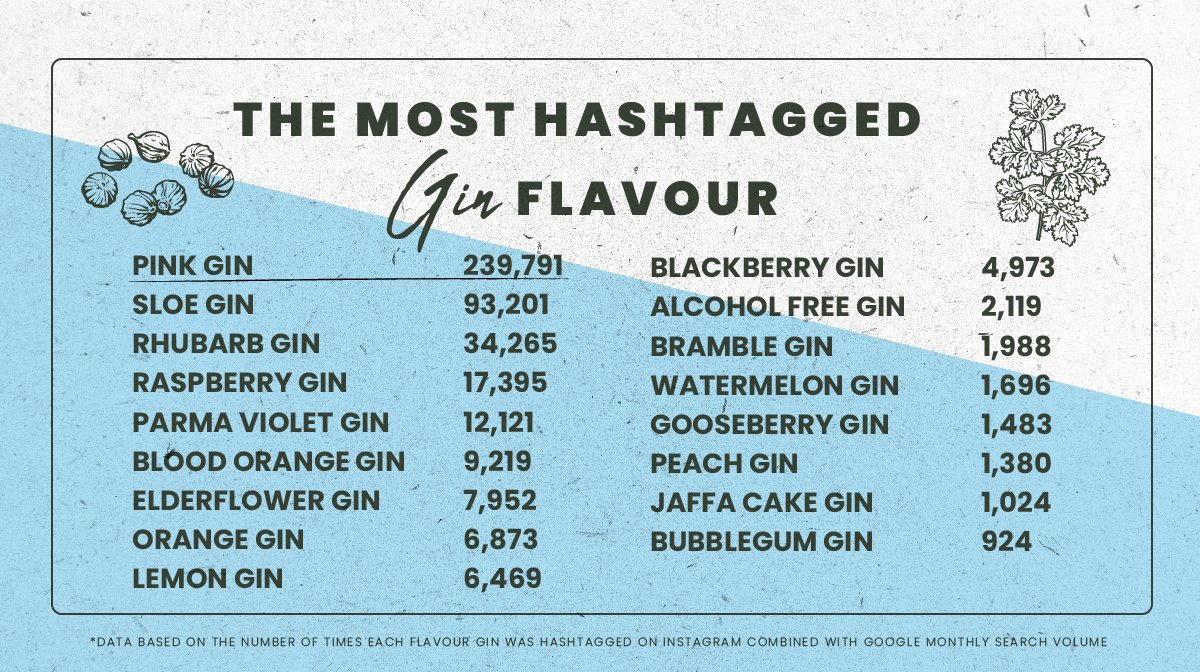 Pink Gin – 239,791
Sloe Gin – 93,201
Rhubarb Gin – 34,265
Raspberry Gin – 17,395
Parma Violet Gin – 12,121
Blood Orange Gin – 9,219
Orange Gin – 6,873
Lemon Gin – 6,469
Elderflower Gin – 7,952
Alcohol free gin – 2,119
Bramble Gin – 1,988
Blackberry Gin – 4,973
Watermelon Gin – 1,696
Jaffa Cake Gin – 1,024
Peach Gin – 1,380
Gooseberry Gin – 1,483
Bubblegum Gin – 924
Taking the prize for the flavour of gin that has been posted the most times on Instagram is pink gin, coming out with a total of 239,791 hashtags in total.
Among our findings, you can find a plethora of berry infusions, such as raspberry, blackberry and gooseberry gins, to citrus notes like blood orange and lemon.
The gin hype is real, because which other spirit has the likes of a parma violet flavoured variety in its arsenal? Giving us a nod to childhood favourite sweets, this is also a majorly popular brand as is 5th on the list when it comes to its Instagrammable quality.
More unusual flavours our research uncovered were flavours such as bramble, and even the humble Jaffa cake. If you're tired of arguing about whether it's a cake or a biscuit, settle matters with a glass of Jaffa cake gin with your tonic of choice.
Although it isn't so much a specific flavour, our analysis also showed that 'alcohol free gin' is also extremely popular, with 2,119 hashtags on Instagram, and 10th on our overall popularity list. We'll touch on this later, as we're beginning to think that there's a more health-conscious movement coming along which still allows you to enjoy all the fun and the great taste of this spirit, too.
G&T Search Habits During and After Lockdown
A series of lockdowns, both nationally and internationally meant that sipping a G&T by the pool on holiday was no longer an option due to restrictions on travel, so many people resorted to bringing the home bar experience to their own homes, and became self-certified mixologists themselves.
So, what has changed? Our findings show that health-related queries are on the rise. We've seen a 125% increase in the number of monthly searches for the term alcohol-free gin, suggesting more and more people are looking to fit in the drink with their low alcohol or tee-total lifestyle in 2021, compared to March 2020.
Other popular health-related searches included 'how many calories in gin', with searches for this increasing by 50% year on year, and 'are gin and tonics healthy' rising by 100%.
Check out a list of what kind of health-related searches regarding gin that have been on the rise from our analysis: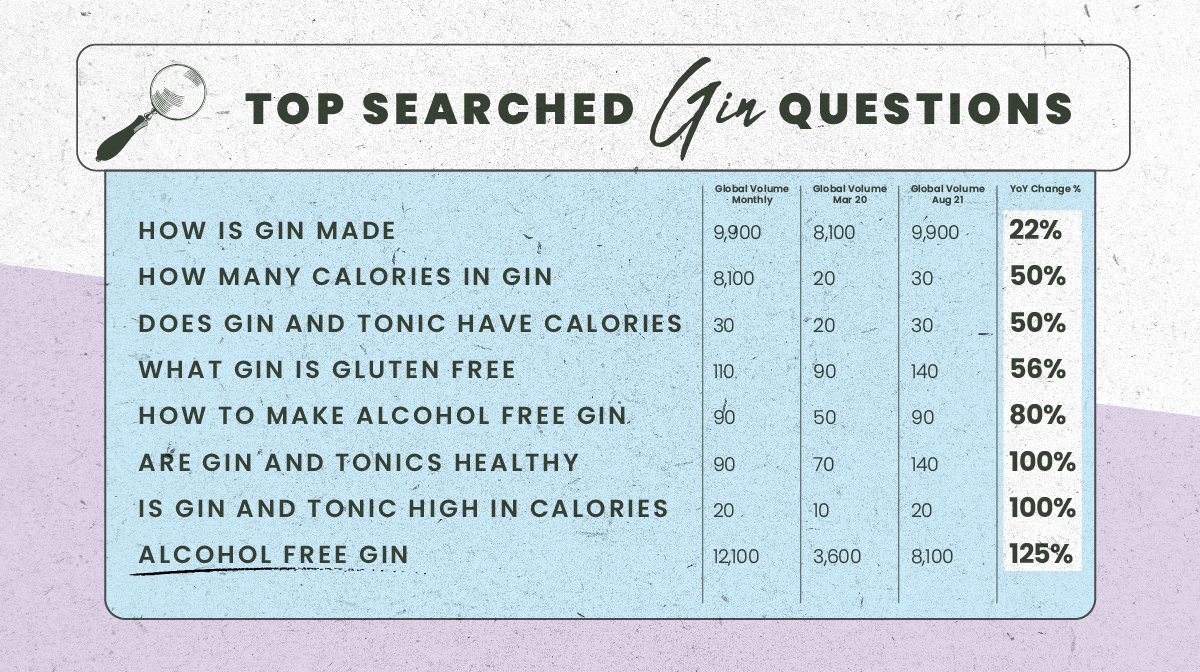 are gin and tonics healthy – up 100% year on year
is gin and tonic high in calories – up 100% year on year
how to make alcohol free gin – up 80% year on year
what gin is gluten free – up 56% year on year
how many calories in gin – up 50% year on year
does gin and tonic have calories – up 50% year on year
Gin and Tonic Combinations by Number of Calories
If you're trying to keep the calories down to a minimum when it comes to your tipples, then we've got you covered. With each brand of gin carrying a different number due to their differing nutritional properties and ingredients, we've paired some of the most popular brands up with a 200ml measure of a popular tonic water brand. Here's what we found: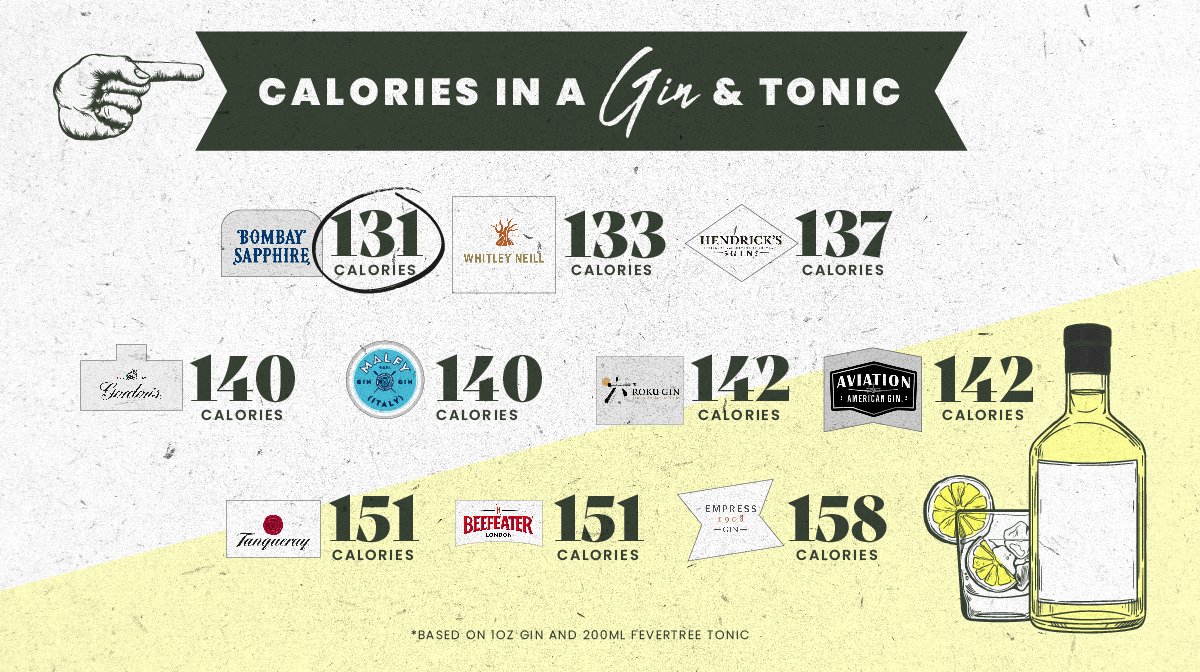 Reach for a shot of Bombay Sapphire gin if you're looking for the lowest calorie option. With one shot containing 59 calories, you'd be absorbing just 131 calories for a single G&T.
You'd be consuming 21% more calories with the highest calorie combination, which is a shot of Empress gin. This stands at 86 calories a shot, and a total of 158 calories for the G&T experience.
What To Put in Gin and Tonic According to The Experts
Want to craft the best concoction? We've sought the advice of gin experts from VIP Bottles to tell us all the best ways to compliment your next glass (or glasses) of the good stuff. When it comes to deciding on gin pairings, mixologist Robert Squire suggests to "look at which botanicals are being used to make your favourite gin and use this to help influence your choice of tonic and garnish."
Here are some examples he has put forward that may inspire you on the pursuit of the perfect drink:
For example, Hendricks Gin is made using cucumber and rose distillates as two of the botanicals – pair yours with a cucumber flavoured tonic and use rose petals as a garnish.
This also applies when using a flavoured gin. The ever-popular rhubarb gin pairs great with ginger ale and garnished with a slice of lime.
Don't be afraid to garnish – garnishes go great with savoury gins and can be complimented by additions of mint, rosemary and basil, adding more aromas to your drink.
The Nation's Favourite Spirit
So, it seems like everyone is obsessed with the sensation that is pink gin, Bombay Sapphire gin and tonic is the option with the lowest amount of calories, and we're collectively more conscious about our health with health-related searches for gin and tonics on the rise compared to 2020.
Whatever your preference is when it comes to the humble ginny tipple, there's a drink combination to suit your preferences – whether it's alcohol-free, jaffa-cake flavoured, or healthier than a bag of crisps.
Consider yourself to be a gin lover, or have a connoisseur in your life that you want to treat? Check out our range of gin gifts at IWOOT, featuring clothing, gifts, homeware and more.
Our top picks:

Methodology
To find out the most popular gin flavours, we looked up the search volume data around the keyword 'gin' using keyword research tool AHRefs, and collated a list of matching terms that related to its various flavours. We then took this list and entered each flavour as a hashtag into Instagram, where we were able to find out how many times each flavour was hashtagged there. Combining the monthly search volumes and total number of Instagram hashtags gave us our overall popularity score for the gin flavours.
To work out the amount of calories in each G&T combination, we looked up the nutritional value a single shot of the most popular gin brands, combining it with 200ml of Fevertree tonic to give an overall number of calories per combination.
For the latest from IWOOT, follow us on Instagram, Twitter, and Facebook.